LISTEN: Prince Covers David Bowie's Heroes At Reported Final Gig
25 April 2016, 16:51 | Updated: 25 April 2016, 19:04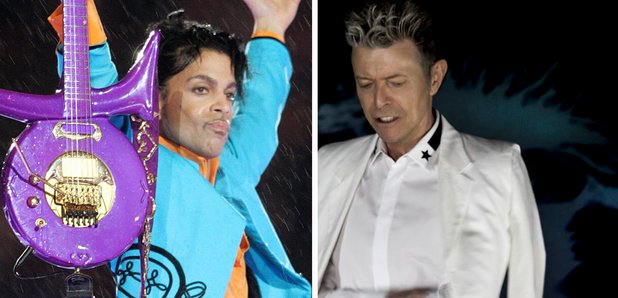 The recording appears to capture Prince paying homage to David Bowie, who passed away earlier this year.
Prince is believed to have paid tribute to the late David Bowie at the last show before his death.
In a video posted online by Stereogum, Prince can be heard singing a moving rendition of Heroes in Atlanta on Thursday 14 April, as part of his Piano & A Mircrophone Tour.
Listen to the clip below:
Fans can also hear what is believed to be Prince's final concert in full below:
Prince died just a week later, aged 57, on Thursday 21 April 2016 at his Paisley Park home.
Bowie's widow, model and entrepreneur Iman, paid tribute to Prince after hearing of his death.
RIP Prince! Condolences to his family, friends and fans #ripprince pic.twitter.com/BAVM6HbuVb

— Iman Abdulmajid (@The_Real_IMAN) April 21, 2016
According to reports, his chilling last words on stage while hosting a dance party on his estate, were: "Wait a few days before you waste your breath on me."
While a cause of death has yet to be confirmed, Prince's friends and family celebrated his life at a private ceremony at his home this weekend.
According to Prince's brother-in-law, Maurice Phillips, there are plans to turn the singer's $4.6m home into a museum for his fans, which will rival Elvis' Graceland.
Speaking to The Sun, he said: "We will turn Paisley Park into a museum in Prince's memory.
"It would be for the fans. He was all about the fans — this would remember his music, which is his legacy.
"Prince was always private but would have wanted his music remembered."
Meanwhile, script details from a special Prince episode of The Simpson's have emerged.
.@TheSimpsons page from unproduced Prince script thank you Jacqueline Atkins for finding! pic.twitter.com/GvYaJKXxgD

— Al Jean (@AlJean) April 23, 2016
.@TheSimpsons possibly another objection Prince had to the script... pic.twitter.com/OgRxlZ5EKJ

— Al Jean (@AlJean) April 23, 2016
Executive producer Al Jean confirmed the shows remained un-produced because they were rejected by the star.