LISTEN: Gorillaz Share Humanz Bonus Track The Apprentice
25 April 2017, 13:09 | Updated: 11 May 2017, 16:56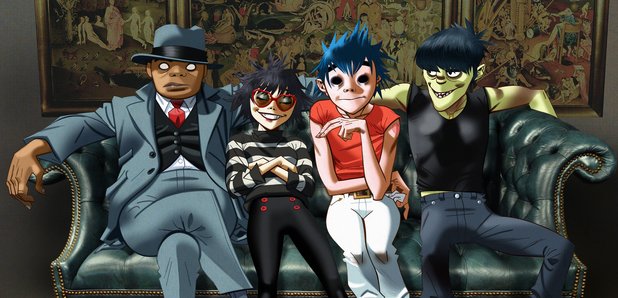 The song features Rag'n'Bone Man, Zebra Katz and RAY BLK.
Gorillaz have dropped another track ahead of the release of their Humanz LP this Friday (28 April).
The Apprentice features the likes of Zebra Katz, Ray BLK and BRITs Critic's Choice and Best British Breakthrough winner Rag'n'Bone Man.
Listen to it here:
The Apprentice makes up one of five bonus tracks which can be found on the 19-song 2-CD deluxe edition of the animated band's new album.
Talking about the LP - which features everyone from Grace Jones to Vince Staples - Damon Albarn explained why he removed all mention of Donald Trump's name from the record, despite it being heavily influenced by the politician.
Speaking to Billboard, the Blur man revealed: "There's no references to [Trump] on the record -- in fact, any time when anyone made any reference, I edited it out".
"I don't want to give the most famous man on earth any more fame, particularly. He doesn't need it!"
GET THE FULL TRACKLIST FOR HUMANZ HERE:
1. Ascension feat. Vince Staples
2. Strobelite feat. Peven Everett
3. Saturnz Barz feat. Popcaan
4. Momentz feat. De La Soul
5. Submission feat. Danny Brown & Kelela
6. Charger feat. Grace Jones
7. Andromeda feat. D.R.A.M.
8. Busted and Blue
9. Carnival feat. Anthony Hamilton
10. Let Me Out feat. Mavis Staples & Pusha T
11. Sex Murder Party feat. Jamie Principle & Zebra Katz
12. She's My Collar feat. Kali Uchis
13. Hallelujah Money feat. Benjamin Clementine
14. We Got The Power feat. Jehnny Beth
BONUS MATERIAL ON DELUXE:
15.The Apprentice feat. Rag'n' Bone Man, Zebra Katz & RAY BLK
16. Halfway To The Halfway House feat. Peven Everett
17. Out Of Body feat. Kilo Kish, Zebra Katz & Imani Vonshà
18. Ticker Tape feat. Carly Simon & Kali Uchis
19. Circle Of Friendz feat. Brandon Markell Holmes