Lemmy Memorial To Be Streamed Live On YouTube
6 January 2016, 12:33 | Updated: 6 January 2016, 19:39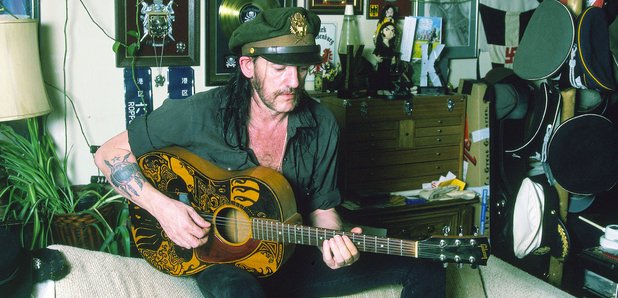 A petition has also been launched to name an element after the Motörhead star.
The memorial service for Lemmy Kilmister this weekend in Hollywood will be streamed live on YouTube
On Monday (4 January) it was revealed Lemmy's favourite bar, The Rainbow Bar And Grill was set to host the Motörhead frontman's memorial, but the tributes have extended to the whole of the Sunset Strip.
According to Rolling Stone, the friends and family of the late frontman are scheduled to gather for a ceremony at Forest Lawn Memorial Cemetery in Hollywood.

The band posted the news of the stream on Twitter along with a link to the stream.
Memorial service and celebration of Lemmy will be live streamed for all Motörhead fans. #motorhead #lovelemmy https://t.co/p0lTVQHxRI

— Official Motörhead (@myMotorhead) January 5, 2016
Their accompanying statement read: "We want you ALL to be a part of this memorial service.
"So wherever you are, PLEASE get together and watch with fellow Motörheadbangers and friends. GO to your favorite bar, or your favorite club, make sure they have access to an internet connection and toast along with us.
Or simply invite your pals around and celebrate Lemm's life at home."
The statement also provided a contact number for any fans who wished to send flowers. See it in full here.
The stream will be available to watch on Saturday 9 January from 22:30.
Meanwhile, fans have showed their support by creating petitions and campaigns to honour the late rock star. The latest has seen fans start a petition to get an element named after Lemmy.
The Change.org petition, launched by John Wright from York, is calling on The International Union of Pure and Applied Chemistry to give Lemmy's name to one of the four new elements.
The petition is given the snappy title: Support Lemmy tribute, help make 'Lemmium' the new chemical name for Heavy Metal in the Periodic Table".
Wright explains his motivation on the page, writing: "Lemmy was a force of nature and the very essence of heavy metal. We believe it is fitting that the International Union of Pure and Applied Chemistry recommend that one of the four new discovered Heavy Metals in the Periodic table is named Lemmium."
Another petition was launched on Change.org this week, calling for a statue to be made in the gravelly-voiced singer's honour, while another campaign has been launched to get Motörhead's Ace Of Spades to No.1