Laura Plane's Husband Holds Glasto-Style Festival In Her Honour
19 July 2017, 10:30 | Updated: 19 July 2017, 18:32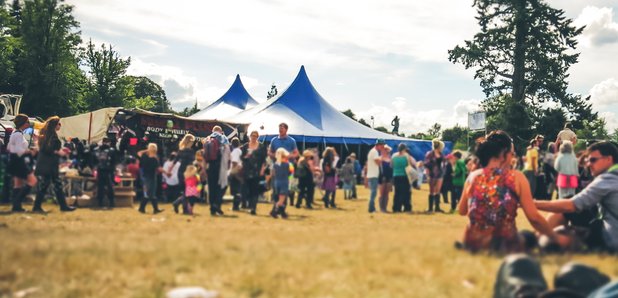 The late Foo Fighters fan - who was honoured during the band's Glastonbury set - lost her battle with breast cancer this year.
Laura Plane's widower, Jon Plane, has put on a charity music event to pay tribute to his late wife.
As the Plymouth Herald reports, Laufest was held near Wembury beach, South Devon so Laura's family and friends could spread her ashes, while doing what she loved best.
Husband of Laura Plane holds incredible Glasto-style festival in her memory https://t.co/EPLpzikpAs #Plymouth pic.twitter.com/WyCv5qB7yc

— Plymouth Herald (@PlymouthHerald) July 18, 2017
The late teacher - who lost her eight battle with breast cancer in May - was a huge music fan and raised more than £30,000 pounds for CoppaFeel! breast charity.
Jon, a freelance dubbing mixer told the outlet: "Everyone that came said it was really lovely and it was nice to see everyone's smiling faces - it reminded me of Laura.
"It was nice to get everyone there to celebrate Laura and after the Foo Fighters Glastonbury tribute happened, we thought we definitely needed for it to be a festival theme."
The event raised £6,000 and included everything from local bands to a circus tent and a silent disco.
Laura and Jon were huge Foo Fighters fans and played the band's 1997 Everlong anthem for their wedding dance.
Following her sad passing in May, Jon contacted Dave Grohl through Twitter in a bid to have him dedicate the song to Laura's memory during their Glastonbury headline set, and the Foos frontman came through.
Watch the moving moment here:
Speaking to the outlet about his decision to pay tribute to Laura, Grohl told the Plymouth Herald: "Unfortunately she passed away not too long ago and her husband started this campaign to try to get us to dedicate Everlong to her at Glastonbury - I think it was the song at their wedding.
"So I had read about it and thought 'wow when we get to Glastonbury I'm going to have to say something'."
Talking about the note he sent to Jon beforehand, the Learn To Fly singer explained: "The other day I was sitting on the plane and this flight attendant came up to me and she says 'You're never going to believe this but have you heard of this woman?'
"I said of course'
"She said 'They are friends of mine. Is there any way that you could write a note?'
"So I did and I guess that made news too."
Foo Fighters frontman Dave Grohl sends touching message to husband of Laura Plane https://t.co/rpDiRzxdH9 #foofighters pic.twitter.com/jb5rRQXLwD

— Foo Fighters News (@foofightersnews) June 14, 2017