Gene Simmons Apologises For Calling Prince's Death "Pathetic"
11 May 2016, 12:57 | Updated: 11 May 2016, 17:53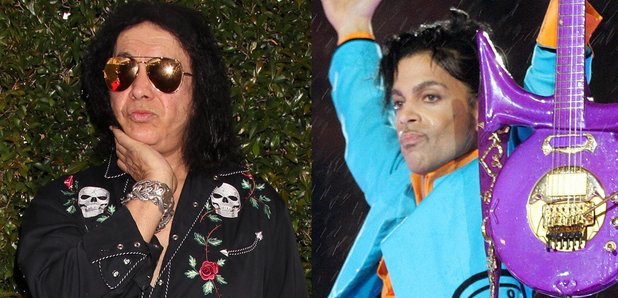 The teetotal Kiss singer has taken back his remarks about the Purple Rain star.
Gene Simmons has apologised for calling Prince's death "pathetic".
In an interview with Newsweek, the Kiss frontman was quoted referring to David Bowie's death as "tragic" and Prince's death as "pathetic," after it was reported that prescription painkiller, Percocet, was found in his system.
Taking to Twitter Simmons wrote: "I got such shit from my family for opening my big mouth again. I apologize - I have a long history of getting very angry at what drugs do to the friends/family of the addicts."
See his full Tweet below:
May 11, 2016
In the original interview with Newsweek the Rock N' Roll all night singer said: "Bowie was the most tragic of all because it was real sickness.
"All the other ones were a choice." Even Prince? "His drugs killed him. What do you think, he died from a cold?"His drugs killed him. What do you think, he died from a cold?"
The 66-year-old, who is known for steering clear of drugs and alcohol, added: "I think Prince was heads, hands and feet above all the rest of them. I thought he left [Michael] Jackson in the dust. Prince was way beyond that.
"But how pathetic that he killed himself. Don't kid yourself, that's what he did. Slowly, I'll grant you... but that's what drugs and alcohol is: a slow death."
Prince died, aged 57, at his Paisley Park mansion in Minnesota on Thursday 21 April.
While it was reported that Percocet was found in the singer's system, his cause of death has yet to be confirmed.