Kate Bush Pens Tribute To Prince: "The World Has Lost Someone Truly Magical"
26 April 2016, 08:58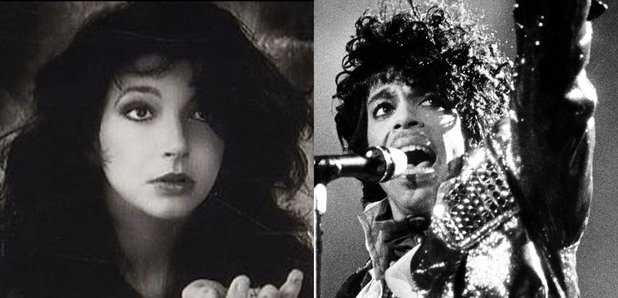 The singer took to her official website to write the heartfelt dedication.
Kate Bush has paid tribute to Prince, following the news of his death last Thursday (21 April).
The Hounds Of Love singer took to her official website, Fish People, to call the late icon an "inspiration" and "mind-blowingly gifted"
Her dedication, entitled "A Message For Prince" reads: "I am so sad and shocked to hear the tragic news about Prince. He was the most incredibly talented artist. A man in complete control of his work from writer and musician to producer and director. He was such an inspiration. Playful and mind-blowingly gifted. He was the most inventive and extraordinary live act I've seen. The world has lost someone truly magical. Goodnight dear Prince."
Bush is the latest artist to add to the tributes made by stars across the breadth of the music and showbiz world.
Nile Rodgers was among those who led the tributes,
#RIP our dearly beloved #Prince. Tears and love on our tour bus. @CHICorg @nilerodgers I'll never forget my brother. We've had #good times

— Nile Rodgers (@nilerodgers) April 21, 2016
Madonna called the Minneapolis man "a true visionary" and sent another Instagram post of her pictured with Prince and Michael Jackson.
David Bowie's widow, Iman, sent her condolences to Prince's family.
RIP Prince! Condolences to his family, friends and fans #ripprince pic.twitter.com/BAVM6HbuVb

— Iman Abdulmajid (@The_Real_IMAN) April 21, 2016
Meanwhile, Prince was reported to cover's David Bowie's Heroes at one of his last gigs before his death.
Listen to it below:
Prince died just a week later, aged 57, on Thursday 21 April 2016 at his Paisley Park home.
A ceremony was held for the Purple one this weekend at his estate, which was attended by close friends and family.
According to reports, his chilling last words on stage while hosting a dance party on his estate, were: "Wait a few days before you waste your prayers on me."
While a cause of death has yet to be confirmed, Prince's friends and family celebrated his life at a private ceremony at his home this weekend.
According to Prince's brother-in-law, Maurice Phillips, there are plans to turn the singer's $4.6m home into a museum for his fans, which will rival Elvis' Graceland.
Speaking to The Sun, he said: "We will turn Paisley Park into a museum in Prince's memory.
"It would be for the fans. He was all about the fans — this would remember his music, which is his legacy.
"Prince was always private but would have wanted his music remembered."
Meanwhile, script details from a special Prince episode of The Simpson's have emerged.
.@TheSimpsons page from unproduced Prince script thank you Jacqueline Atkins for finding! pic.twitter.com/GvYaJKXxgD

— Al Jean (@AlJean) April 23, 2016
.@TheSimpsons possibly another objection Prince had to the script... pic.twitter.com/OgRxlZ5EKJ

— Al Jean (@AlJean) April 23, 2016
Executive producer Al Jean confirmed the shows remained un-produced because they were rejected by the star.