Josh Homme Gives Support To Victims Of Paris Attacks Through His Sweet Stuff Foundation
20 November 2015, 11:51 | Updated: 20 November 2015, 15:21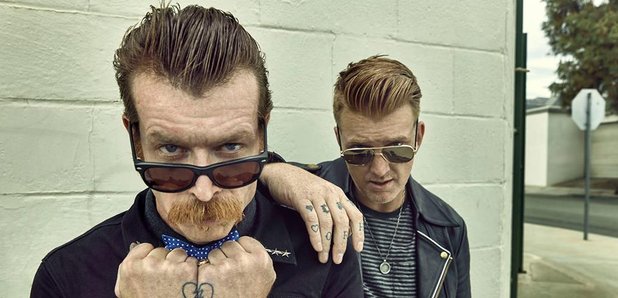 The Eagles Of Death Metal star has asked fans to donate to the victims of the Paris attack.
Josh Homme has pledged support for the surviving families of the Paris attacks, offering them all the donations made on his Sweet Stuff Foundation page from now until the end of the year.
The Eagles Of Death Metal star and Queens of the Stone Age frontman posted a message on Twitter, thanking fans for giving him a "moment to pause" and asking them to donate to his charity.
Thank you for a moment to pause. Now time to help. Please donate. #paris #eodm #bataclan #dothesweetstuff pic.twitter.com/o7Cw0c1vE8

— Sweet Stuff FDN (@dothesweetstuff) November 17, 2015
The message on his website, reads: "In honor of the musicians and crew members killed in Paris, the Sweet Stuff Foundation is dedicating all money received through this site until December 31 2015, to the surviving families."
Eagles Of Death Metal were playing a gig at the Bataclan last Friday (13 November) when the the venue came under attack.
Homme wasn't present at the time, but up to 89 people were killed, including Eagles Of Death Metal merchandise seller, Nick Alexander.
The band issued the following statement on their Facebook page earlier this week: