Celebrate Australia Day With The Most Aussie Interview EVER!
26 January 2017, 09:57 | Updated: 26 January 2017, 14:12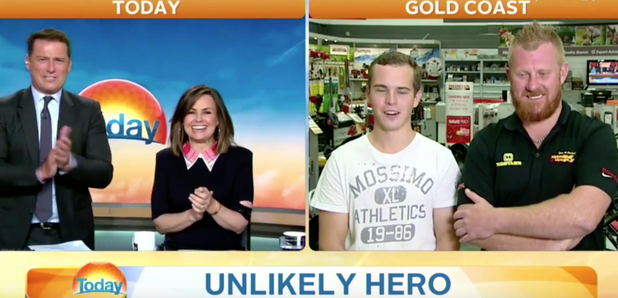 Shirtless and shoeless James Ross-Munro gets quizzed by the Today show after foiling a robbery.
It's Australia Day and what better way to celebrate than by re-watching a viral video dubbed the "Most Australian Interview" ever?
Back in 2016, James Ross-Munro and Kane Wiblen from the the Gold Coast managed to prevent a robbery after being at a "stubbies and singlets party". That's a short beer cans (or shorts depending on how you use it) and vests to us!
As the pair describe their heroic feat in true Aussie style, the Today hosts can't help but crack up at them.
Trying to explain why he was "shirtless and shoeless" Munro reveals that the boys stopped for some noodles, when he tried to jump over a sign and busted his "plugger" - otherwise known as his thong... otherwise known as his flip flops.
When asked if he went to the gym, the legend then replied: "The only gym I go to is Jim Beam," before shouting out a fishing team, who were sorting him out with new "pluggers".
OK, so granted we can't understand most of what these guys are saying, but their interviewers are in absolute stitches about it!
Happy Strayla Day!