Iron Maiden Posted The Perfect Response To Their 1979 Advert Resurfacing...
7 January 2016, 12:06 | Updated: 8 January 2016, 11:30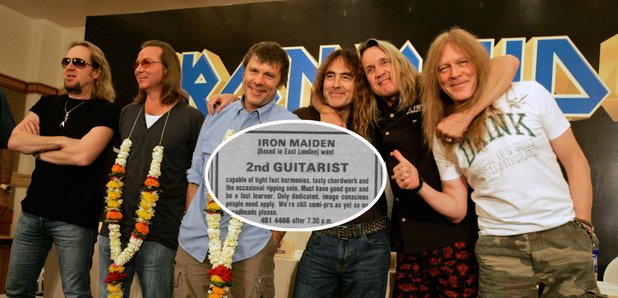 This Melody Maker advert from the band looking for a guitarist will make you smile.
An advert from a "semi-pro" Iron Maiden searching for a guitarist has resurfaced online.
The advertisement, which was posted in Melody Maker on 4 August 1979, sees the outfit looking for a "2nd Guitarist" whose "capable of tight fast harmonies, tasty chordwork and the occasional ripping solo".
The ad was shared on ShortList's Twitter account and eventually got the attention of the Fear Of The Dark band.
Not sure these guys will ever amount to anything pic.twitter.com/9tA4KiyOVN

— ShortList Magazine (@ShortList) January 5, 2016
Most importantly in the ad, the band stress that they're only "semi-pro" and therefore no "breadheads" (otherwise known as those chasing money) "need apply".
Little did the band know, they were about to go from semi-pro to pro VERY soon. Iron Maiden signed a record deal with EMI in December that year, scored a No. 4 self-titled debut album in 1980, and have gone on to release an insane 38 albums to date. Clearly, the British band haven't had any Wasted Years.
The Leyton-formed rockers, soon caught wind of the ad and shared their witty response on Twitter, telling fans that unfortunately "the position has been filled."
We are sorry to report that the position has been filled. We have gone pro and will see you on the road in 2016! https://t.co/FM1LUsMxab

— Iron Maiden (@IronMaiden) January 5, 2016
Epic!