This independent record store has offered a FREE album to Junior Doctors
13 February 2016, 09:30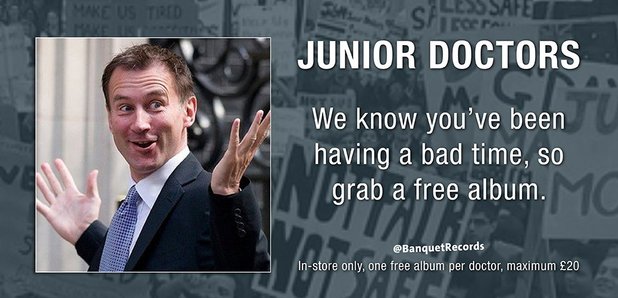 A record store in South West London has offer to give away free albums in support of striking junior doctors.
Junior doctors in England came out on strike earlier this week and one local record store has come out in support.
this one's for the #juniordoctors pic.twitter.com/VKlC8BSgu4

— Banquet Records (@banquetrecords) February 12, 2016
The doctors staged a second 24-hour strike on Wednesday 11 February, after negotiations with the government over plans for a seven-day NHS service broke down.
The dispute is over new contracts that will enable out-patient and local GP services to be available at weekends, alongside the pre-existing emergency and hospital facilities - but the deal on the table will put patients at risk, say the doctors.
The strike ended with Health Secretary Jeremy Hunt saying he would impose the contracts - something that the doctors didn't want to hear.
To soften the blow for said physicians, Banquet Records in Kingston, South West London, has published a very special offer on its Twitter feed.
"We know you've been having a bad time," says the offer. "So grab a free album."
The small print adds "In-store only. One free album per doctor. Maximum £20."
Banquet boss Jon Tolley is also the Liberal Democrats councillor for the local area and runs the popular New Slang club nights in the town, which has recently seen shows by Bloc Party and Suede, and will host a gig by Jack Garratt next week.