Ian Watkins Sentenced To 35 Years For Child Sex Offences
18 December 2013, 14:43 | Updated: 18 December 2013, 15:27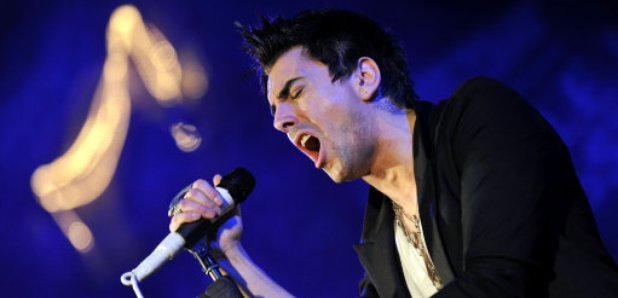 Lostprophets frontman Ian Watkins has been jailed for 35 years after pleading guilty to a string of child sex offences.
The 36-year-old singer made a last minute change of plea to guilty at the start of his trial at Cardiff Crown Court last month.

Watkins plotted with two groupies to abuse their children over text and internet messages.

He encouraged a fan to abuse her own child during a webcam chat and also admitted to sexually touching a one-year-old alongside her mother.

Watkins also had a stash of child porn on his computer and had made his own videos. GCHQ had to be brought in to crack into his encrypted files.

He had previously denied all 24 charges levelled against him, but on November 27 pleaded guilty to 13 counts, two of which were changed to attempted rape of a baby, rather than actual rape.

The court heard that the singer had no memory of a video showing the abuse of one of his victims, which would have been a key piece of evidence for the prosecution. The footage was reportedly shot in a hotel in Shepherd's Bush, London in April 2012.

Watkins also admitted to being involved in a plot to rape a baby, but claimed that sex with the child did not take place. According to court reports the incident occurred during a "drug-fuelled binge".
He instructed his defence team to flag up to the court his addiction problems - as well as the pressures of fame - but a leading criminal psychologist brushed off suggestions that drugs were to blame for his actions.
"It's true that we do see higher levels of substance misuse within [the paedophile] population," Nottingham Trent University senior psychology lecturer Serena Simmon said.

"But in my experience I have never met a child abuser who has been made one via their drug-taking."
Today the court heard how the day after pleading guilty he spoke on the phone to a woman called Samantha, claiming he would put out a statement when sentenced "just to say it was mega lolz" and that he was not a paedophile.

He also wanted the statement to add: "I do not know what everybody is getting so freaked out about."
The judge told Watkins, who was visibly shaking, that he would serve 29 years in jail with the final six on licence.
"Those who have appeared in these courts over many years see a large number of horrific cases. This case, however, breaks new ground," the judge told him.

"You, Watkins, achieved fame and success as the lead singer of Lostprophets.

You had many fawning fans. That gave you power. You knew you could use that power to induce young female fans to have help satisify your insatiable lust and take part in the sexual abuse of their own children.

"Away from the highlights of your public performances lay a dark and sinister side."
Two female co-defendants, who cannot be named for legal reasons, also pleaded guilty. They were sentenced to 14 and 17 years respectively.
A senior detective has claimed that the psychology of Ian Watkins makes him potentially the most dangerous sex offender he has ever encountered.
"It's as if he just doesn't care," Detective Chief Inspector Peter Doyle said. "He has shown no remorse at any time. In my view, that potentially makes him the most dangerous sex offender I have ever seen."

Mr Doyle believes Watkins is likely to be confronted with new child sex abuse allegations from behind bars. His officers are continuing their investigation overseas.

Meanwhile, three police forces are now being investigated over the way they handled allegations that the lead singer of the rock band was abusing children.

Complaints were made to South Wales, South Yorkshire and Bedfordshire Police as far back as 5 years ago.

His former bandmates have denied ever having knowledge of Watkins' behaviour. Shortly after he pleaded guilty they released a statement saying they were "heartbroken, angry, and disgusted".

Paving slabs featuring some of his lyrics are to be ripped up from a street in his home town in south Wales.

The council's planning to remove the granite slabs from Pontypridd "as soon as possible."

If you have any concerns at all about a child, call the NSPCC on 0808 800 5000 or email help@nspcc.org.uk