WATCH: How Many Hours A Day Does Brian May Practise Guitar?
24 May 2017, 17:11 | Updated: 24 May 2017, 19:02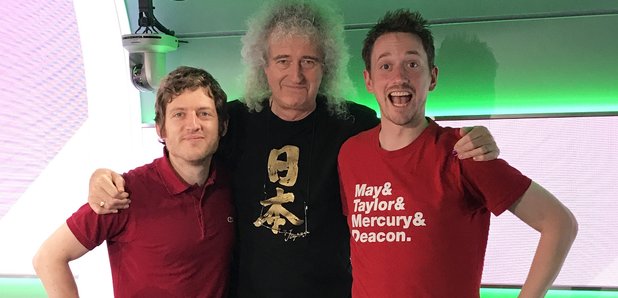 Elis James has the question that's on everyone's lips… and there's amazing news for mega Queen fan John Robins.
We've had a very special guest… a VERY special guest indeed. John has been able to welcome into the studio none other than Dr Brian May, Queen guitarist and one of John's musical heroes. And you'll be pleased to hear that they got on famously.
Elis managed to sneak in a question among all the mutual admiration, however.
He pondered: "As a guitarist, in a normal day, how much guitar do you play? Do you wake up and think, I'm just gonna play my acoustic?"
The legend, who brought you the memorable riffs that powered classic songs like Bohemian Rhapsody and We Will Rock You, pondered: "If I'm not on tour, not a lot. There is an awful lot to do in my day.
"Now at this point, when I'm in rehearsals, I pick it up every day as a religion. Because I have to harden up the fingers again."
And you can't disguise the delight on Robins' face when Elis asks the legend when he thought he was at his guitar-playing peak…
Watch the clip for the full story.