Harrison Ford Pays Tribute To "One-Of-A-Kind" Carrie Fisher
29 December 2016, 13:17 | Updated: 29 December 2016, 23:06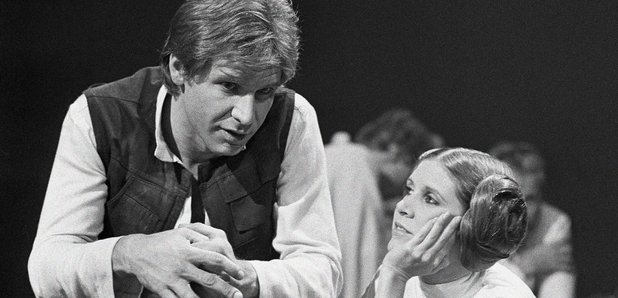 Meanwhile, Steve Martin has deleted his tweet about the Star Wars actress following accusations of sexism.
Harrison Ford has paid tribute to his "one-of-a-kind" friend and Star Wars co-star Carrie Fisher, who died on 27 December, aged 60.
The Hollywood actor shared his sadness at the passing of Fisher in a statement, which read: "Carrie was one-of-a-kind… brilliant, original. Funny and emotionally fearless. She lived her life, bravely".
He added: "My thoughts are with her daughter Billie, her mother Debbie, her brother Todd, and her many friends. We will all miss her."
The pair captured sci-fi fans in the Star Wars films with their on-screen relationship as Han Solo and Princess Leia. This year, Fisher confirmed that she and Ford had an off-screen affair when she was just 19.
Today, the world woke up to the heartbreaking news that Fisher's mother, Debbie Reynolds, died just one day after her daughter.
The Hollywood legend is believed to have been rushed to Cedars Sinai medical centre from her son's house on Wednesday (28 December), where she died hours after suffering from a severe stroke.
Meanwhile, Steve Martin has appeared to delete his own tribute to Carrie Fisher, facing accusations of sexism after referring to the star's looks.
See his tweet, which has now been deleted, below:
Here's Steve Martin's fine little tweet praising Carrie Fisher that some grumps pressured him to delete. pic.twitter.com/A1W5qYkdwI

— Capitalics (@Capitalics) December 28, 2016
Some people have come to the actor's defence, however, with Piers Morgan calling it "feminism at its absolute worst".
Feminism at its absolute worst.
How shameful to do this to a legend like @SteveMartinToGo, whose 'crime' was paying a woman a compliment. https://t.co/nec4DmmBqO

— Piers Morgan (@piersmorgan) December 29, 2016
See the mixed responses to Martin's tribute here:
Some people just have a way with words, and other people … oh … not have way. -Steve Martin

— ysocialmedia (@ysocialmediaca) December 19, 2016
. @SteveMartinToGo 4 the record. Anyone with a brain understood the intention of your tweet.

— Michael Cudlitz (@Cudlitz) December 29, 2016
Criticizing Steve Martin for saying Carrie Fisher was a beautiful creature is the kind of PC nonsense that gives liberalism a bad name.

— David Edward Burke (@DavidEBurke) December 29, 2016
Leave Steve Martin alone yes he complimented Carrie fisher's looks but also complimented her humour and brains

— Ruthina (@RuthLlewellyn) December 28, 2016