Graphic Designer Photoshops Vain Selfies, Makes Comment On Society In The Process...
15 March 2016, 13:51 | Updated: 25 April 2016, 15:00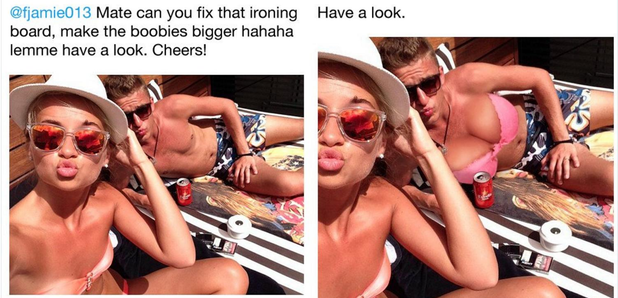 James Fridman is pretty good at Photoshop, but even better at banter.
James Fridman's been getting a lot of attention lately for his editing skills online.
The photoshop-loving designer, who claims to edit images on request, has turned his hand to people's ridiculous selfies - and doesn't hold back when making them even more ridiculous.
From the vain, to the rude, to those who just can't spell, Fridman uses his editing skills and sense of humour to get his point across in inventive ways.
See some of his best edits and what we think they tells us about his world view below:
James Fridman isn't that keen on the Kardashians:
March 12, 2016
March 10, 2016
He's clearly not into giving shallow guys exactly what they want:
#photoshop #faceswap #poolparty pic.twitter.com/brr0fH8E1t

— James Fridman (@fjamie013) March 4, 2016
March 5, 2016
March 8, 2016
Or shallow girls for that matter...
March 7, 2016
March 10, 2016
He doesn't believe in stereotyping... but is concerned about "tuition fees".
March 9, 2016
And he disparages (and capitalises on) the poor spelling of many Twitter users:
March 14, 2016
March 5, 2016
However, If Fridman's Terms and Conditions are anything to go by, most of his participants should know what they're getting themselves into.
Although it doesn't really explain why this image of Hollyoaks star Jennifer Metcalfe was used - as pointed out by Metro with a little help from Daily Mail, which led people to believe that Fridman made up the profiles and sourced the images himself.
#photoshop #faceswap #beforeandafter pic.twitter.com/RpJONzP9LO

— James Fridman (@fjamie013) March 6, 2016
Well, we suppose if he's faking one pic...
Picture: Twitter/James Fridman