Graham Coxon And Noel Gallagher To Join Gorillaz in Margate
27 March 2017, 16:09 | Updated: 11 May 2017, 16:58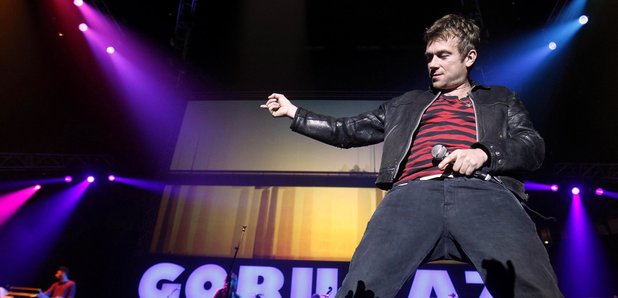 Damon Albarn has revealed that the cartoon band's upcoming show will be really star-studded.
The Blur frontman - who was launching his fifth collaboration with artist Jamie Hewlett at a "secret" show in London on Friday night (24 March) - announced that the band's show at Dreamland in Margate on 10 June will feature ALL the guests on the new album Humanz.
That includes and Noel Gallagher, who priovides backing vocals on the track We Got The Power, which also features Jehnny Beth from Savages and Damon's Blur colleague Graham Coxon, who plays guitar on the track Submission.
Introducing the show which took place at Printworks in Surrey Quays, South East London, Albarn explained: "We've got pretty much everyone who's on the record here… A few people couldn't make it because they had other stuff that was booked in beforehand.
"But they'll be all here when we play Margate."
Watch Damon Albarn on stage at Printworks:
Also appearing on Humanz - and therefore at Margate - are De La Soul (who appear on the track Momentz), Grace Jones (on Charger), Benjamin Clementine (on Hallelujah Money), D.R.A.M. (on Andromeda), Anthony Hamilton (on Carnival), Mavis Staples and Pusher T (on Let Me Out), Jamie Principle and Zebra Katz (on Sex Murder Party), Kali Uchis (on She's My Collar), Danny Brown and Kelela (on Submission Vince Staples (on Ascension), Peven Everett (on Strobelite), Popcaan (on Saturnz Barz).
The deluxe edition of the album also includes tracks featuring Rag 'N' Bone Man, Carly Simon and Brandon Markell Holmes.
Gallagher and Jehnny Beth were in residence at the show on Friday. Humanz is released on 28 April.