Gordon Smart To Host Brand New Music Show On Radio X
5 January 2017, 15:28 | Updated: 5 January 2017, 16:41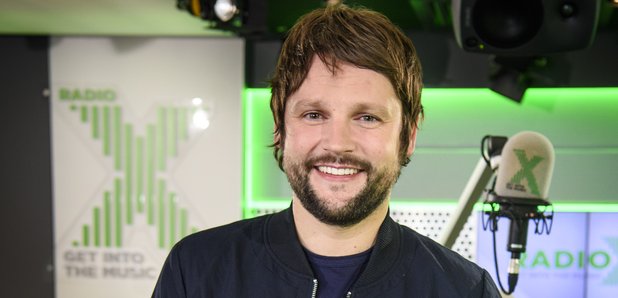 The journalist and broadcaster will become the new host of the Radio X Evening Show every weekday… and Biffy Clyro will be his first guest.
On Monday 9 January, Gordon Smart will become the new host of the Radio X Evening Show every weekday from 7-10pm. Gordon's brand new show will feature interviews and live sessions with Radio X's most loved bands and artists. His first guests will be Biffy Clyro, who'll be joining Gordon in the studio on Tuesday 10 January - and there'll be more huge artists on the way in the coming weeks.

There'll also be guests from the worlds of comedy and film as well as the biggest tunes and new music around.
Smart will continue to present Smart on Sunday (Sundays 2-5pm), broadcasting six days a week on Radio X.
Smart joined Global - the media and entertainment group which is home to Radio X - in 2011, presenting a weekly show on XFM before taking a break from radio in 2013 to edit The Scottish Sun.
He returned to Radio X to host his weekly Sunday afternoon show Smart on Sunday in April 2016.
Gordon says: "I'm absolutely delighted about stepping into the evening slot on Radio X. I love the station and dreamed of doing a show more regularly.
"The stable of talent on air, producing the shows and behind the scenes is exceptional. I love the music on Radio X, thrive on big interviews and thoroughly enjoy the company of the loyal listeners. I can't wait to get stuck in to the next adventure with the good people at Global. Here we go!"

Richard Park, Group Executive Director and Director of Broadcasting at Global, said: "Gordon is already a big hit with Radio X listeners. He is passionate about the music that our listeners love with a phenomenal knowledge of the worlds of music and entertainment. To have him broadcasting on Radio X six days a week is fantastic and we're very excited about his brand new evening show."
You can listen to Gordon Smart on Radio X, weekdays 7–10pm from Monday 9 January, and Smart on Sunday, Sundays 2–5pm.
Radio X is on 104.9 FM in London, 97.7 FM in Manchester and on digital radio right across the UK, on mobile via the Radio X app and online at radiox.co.uk.