WATCH: George Michael Shares Love Of Joy Division & Disagrees With Morrissey
30 December 2016, 14:45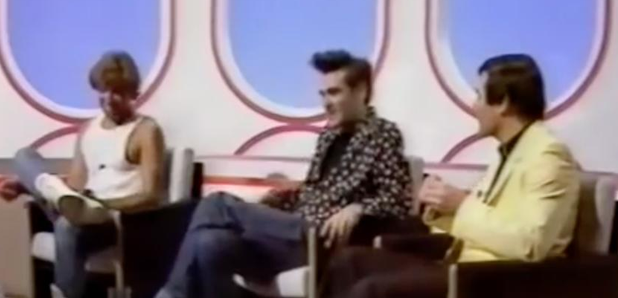 The late singer joined The Smiths frontman and Tony Blackburn on 80s music and pop-culture show, Eight Days A Week.
Since the sad passing of George Michael at just 53 years of age this Christmas, stories have emerged which show the singer's talent, sense of humour and immense generosity.
But this re-surfaced clip of the Wham! star appearing on Eight Days A Week in 1984 has also revealed him to be a true lover of music.
Joined by then Smiths frontman Morrissey and Tony Blackburn, a 21-year-old George Michael tackles a variety of upcoming releases including an album by Everything But The Girl and a biography on Joy Division (which they discuss at 13:21).
Watch the amazing clip uploaded to YouTube by Post-Punk.com below:
Despite the fact that Morrissey wasn't too keen on the Manchester band, Michael reveals himself to have been quite a big fan of Joy Division, paying particular attention to "the second side" of their Closer album.
The singer also shared his admiration for Everything But The Girl's Tracey Thorn's "haunting" voice and his obsession with Aretha Franklin- who he would later go on to collaborate with in 1987 on I Knew You Were Waiting (For Me).
One thing Morrissey and Michael do seem to agree on is the cheesy fish-out-of water film, Breakdance, which sees a white dancer taken on by a black breakdancing troupe.
Tony Blackburn, who earlier in the show admits he doesn't even like albums, seems to stand up for it though, praising its "electric" dancing and the lead actress's "gorgeous bum".
Ever the elegant speaker, Michael speaks up for himself suggesting to hear some of the film's soundtrack "you might as well go to a good club".
What a legend.
Photo: YouTube/Eight Days A Week/Post-Punk.com