Fund Launched For "Permanent Memorial" To Manchester Victims
16 August 2017, 10:34 | Updated: 16 August 2017, 20:19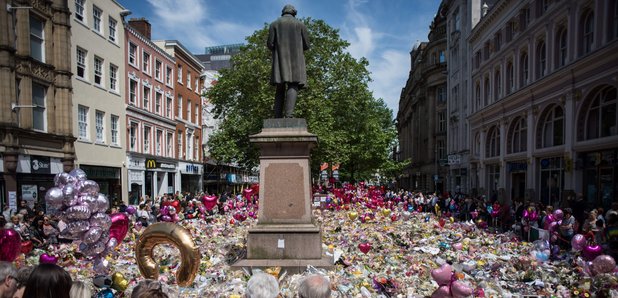 Manchester City Council have announced plans to pay tribute to the victims of the Manchester Arena terror attack, as the venue announces its reopening.
A charity fund has been launched to create a memorial to the victims of the Manchester terror attack.
May 2017 saw 22 people killed and many more injured when a suicide bomber targeted the foyer of the Manchester Arena after an Ariana Grande concert.
Now, Manchester City Council has announced their plans to build a "permanent memorial" for the victims.
It has been announced today (16 August) that the Manchester Arena will be re-opened next month with a huge benefit concert featuring Noel Gallagher, Courteeners and Blossoms.
Watch as Courteeners' Liam Fray discusses the tragic attack:
All profits from the concert - which will take place on 9 September - will raise money for the Manchester Memorial Fund, a charitable trust overseen by the Lord Mayor of Manchester which will go towards establishing the permanent memorial.
The news comes as it is announced that the families of the victims are set to receive £250,000 each, after £18 million was raised for the We Love Manchester Emergency Fund.
Cllr Sue Murphy, chair of the trustees of the fund, said: "The city and the world responded with such extreme kindness, generosity and solidarity in the aftermath of the Manchester Arena attack.
"Thanks to this we have raised more than £18m and we were conscious that we had to get some of this swiftly to those with immediate needs.
"We have therefore given a around third of the total to the bereaved families and £3.5m to those who were hospitalised after the attack".
See Chris Martin sing Don't Look Back In Anger to Ariana Grande at the We Love Manchester benefit concert, which helped raise a huge sum of money for the Manchester fund.