WATCH: Footage Of Lemmy Performing In Motörhead's Last Show Before His Death
31 December 2015, 09:00 | Updated: 31 December 2015, 14:33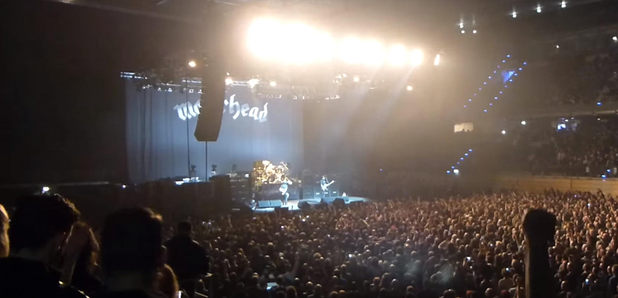 The frontman's last gig took place on 11 December in Berlin.
Footage from Lemmy's final gig with Motörhead before he passed away has been discovered online.
The video was uploaded to YouTube by a fan a day after the gig took place in Berlin on 11 December, but has resurfaced since the sad news of the rockers death was revealed this Monday (28 December).
Before playing their last song, Overkill, Lemmy speaks to the crowd, introducing the band and saying: "We Are Motörhead and we play Rock N' Roll!"
The band finished their explosive tour - which celebrated 40 years together - with a gentlemanly bow.
Lemmy passed away just two and a half weeks after this performance on 28 December after being diagnosed with an aggressive form of cancer on Boxing Day.
Drummer Mikkie Dee has since confirmed the band will split following his death, saying: "Lemmy was Motörhead".
Recalling his bandmate in his final days, he revealed: "He was terribly gaunt, he spent all his energy on stage and afterwards he was very, very tired."
Meanwhile, the biggest names in rock have paid tribute to the Ace Of Spades star, with Ozzy Osbourne tweeting he lost one of his "best friends" and Josh Homme calling him the "genuine article" in a lengthy Instagram post.
A tattoo artist has also shared a picture with Foo Fighters frontman Dave Grohl, after he commemorated Lemmy with an Ace of Spades tattoo.