Foo Fighters, QOTSA And More React To The Death Of Motörhead's Lemmy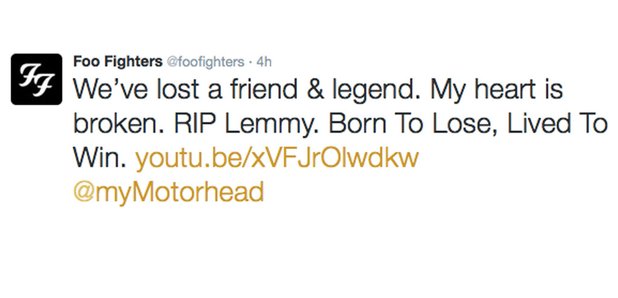 Red Hot Chili Peppers, Clint Boon and Stereophonics are also among those showing their respects for one of rock music's most iconic characters.
After celebrating his 70th birthday on Christmas Eve and suffering a vey short battle with cancer, Motörhead's Lemmy passed away this morning (Tuesday 29th December).
The band announced the news via their official Facebook page and said "We cannot begin to express our shock and sadness, there aren't words. We will say more in the coming days, but for now, please…play Motörhead loud, play Hawkwind loud, play Lemmy's music LOUD. Have a drink or few. Share stories. Celebrate the LIFE this lovely, wonderful man celebrated so vibrantly himself. HE WOULD WANT EXACTLY THAT."
As well as being a fierce bass player and frontman to one of the world's loudest bands, Lemmy was also an icon and a huge inspiration to many, many artists and musicians. Among those paying tribute were Foo Fighters (who said "We've lost a friend & legend. My heart is broken. RIP Lemmy. Born To Lose, Lived To Win") and Red Hot Chili Pepper's Flea (who wrote "Oh my. Lemmy got let in on the big secret. One of the greatest rockers of all time. Amazingly unique incredible bass player. My hero. Wow').
RIP Lemmy.
We've lost a friend & legend. My heart is broken. RIP Lemmy. Born To Lose, Lived To Win. https://t.co/6KJ4cBCNfH @myMotorhead

— Foo Fighters (@foofighters) December 29, 2015
Things just got really f*ckin' loud in Heaven xxx #lemmy

— Clint Boon (@therealboon) December 29, 2015
Lost one of my best friends, Lemmy, today. He will be sadly missed. He was a warrior and a legend. I will see you on the other side.

— Ozzy Osbourne (@OzzyOsbourne) December 29, 2015
Lemmy, you are one of the primary reasons this band exists. We're forever grateful for all of your inspiration. RIP pic.twitter.com/WC1csn5F5x

— Metallica (@Metallica) December 29, 2015
December 29, 2015
Rest In Paradise Ian Lemmy Kilmister @myMotorhead

— THE CULT (@officialcult) December 29, 2015
RIP Lemmy. Rock n' Roll Legend! pic.twitter.com/sZoZG6nFVZ

— stereophonics (@stereophonics) December 29, 2015
I'll miss you buddy and our conversations. You were always a pilar of dignity. RIP #Lemmy pic.twitter.com/da7YV08V1W

—Nikki Sixx(@NikkiSixx) December 29, 2015
Lemmy: Rest In Peace, my friend. pic.twitter.com/2M6VPiBGyE

— Gene Simmons (@genesimmons) December 29, 2015
Oh my. Lemmy got let in on the big secret. One of the greatest rockers of all time. Amazingly unique incredible bass player. My hero. Wow.

— Flea (@flea333) December 29, 2015