Watch The Touching Moment A Father Heard His Daughter's Heart Beating In Another Child's Chest
27 July 2016, 15:11 | Updated: 27 July 2016, 15:17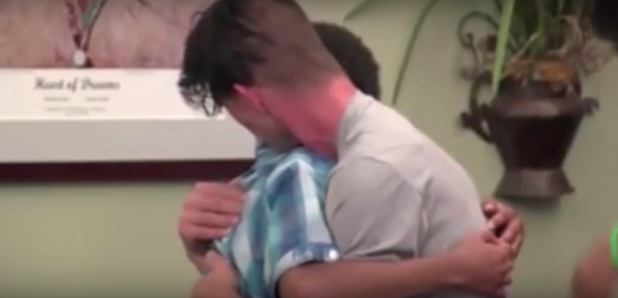 The family of Katelyn Zimmerman, who was tragically killed by a drunk driver, met the boy they donated her heart to.
There are few things out there that can truly have us in floods of tears, but this video might just be one of them.
As reported by the Lad Bible, footage has emerged which shows the first time a father heard his daughter's heart beating in another boy, and it's a real tear-jearker.
Katelyn Zimmerman (14), was riding her bike with her brother Dylan (13), when they were struck by a drunk driver, leaving behind their parents and Katelyn's twin sister.
Despite their grief, they made the decision to donate Katelyn's organs just days later, saving the life of another child they didn't know.
Four months later, the moment came where the family had the opportunity to meet that child - 14-year-old Alj Jefferies - and hear the heart that belonged to Katelyn beating again for the first time.
Watch the heart-warming and emotional clip below:
The video also sees Alj tearfully read out a letter, which says:"Thank you from the bottom of my heart Katelyn. Thank you for being my miracle".
Seriously moving stuff.
Picture: YouTube/Ark News