People Want To Put Prince On A $20 Bill And Call It $19.99...
25 April 2016, 12:23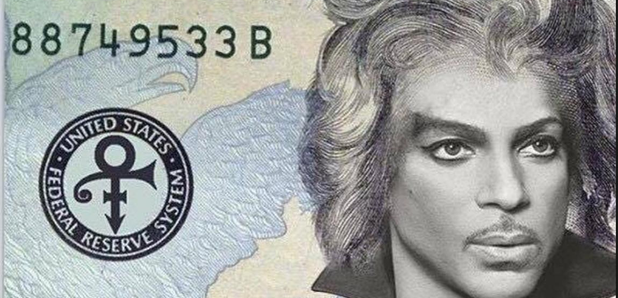 Someone has come up with a fitting tribute to the late icon.
People have thought of a novel way to remember Prince, following the news of his tragic passing last Thursday (21 April).
Reddit user Shaynasaur posted an image, asking for the singer to appear on the United States $20 bill, but they only want it to be worth $19.99.
If that hasn't put a smile on your face already, it's also been suggested that: "It will be the bill that was formerly known as a Twenty."
See a mock-up of the tribute below:
Its the bill formerly known as a Twenty
One commenter, TCalnan, even added that "throwing a bunch of them up in the air would be known as 'making it purple rain'".
And it looks like they aren't the only ones who think it's an amazing idea. Ty Francis posted the same image yesterday:
Love this! "They should put Prince on the $20 bill and call it $19.99. It's "The bill formerly known as a twenty." pic.twitter.com/BdCFjg3ozR

— Ty Francis (@tyfrancis) April 24, 2016
And trutherbotknot added another illustration of the bill:
.@tyfrancis $19.99 pic.twitter.com/3W7kxM78nh

— trutherbotknot (@truthermagbots) April 24, 2016
While the original source of the idea seems unknown, it's good to know that in the wake of such sadness, we can all still smile at Prince-related puns...
Meanwhile, it has been reported that Prince was cremated on Sunday in a "private, beautiful ceremony".
According to Reuters, publicist Anna Meacham said: "Prince was celebrated by a small group of his most beloved: family, friends and his musicians, in a private, beautiful ceremony to say a loving goodbye".
Meacham added that Prince's final resting place will remain private.
It has also been reported that Prince's brother-in-law, Maurice Phillips, has said "he worked for 154 hours straight" up until his death.
According to Sky News, Phillips said at the service at the Paisley Park: "He worked 154 hours straight.
"I was with him just last weekend. He was a good brother-in-law."
Picture: imgur/Shaynasaur