Fan Gives Public Enemy A Lift And Has A Bohemian Rhapsody Singalong Too...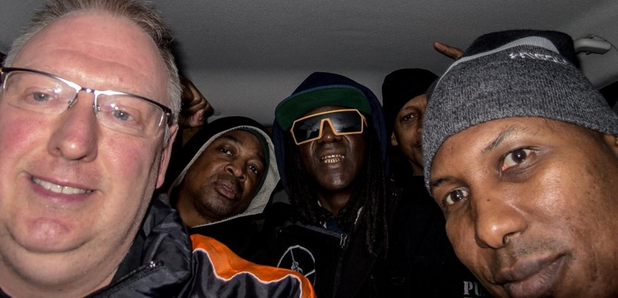 Kevin Fallon gave the hip hop group a last minute lift to their gig.
A Sheffield photographer offered Public Enemy a lift to their arena gig this week.
The Hip Hop group attended a signing at the city's Record Collector, and were on their way to a gig when their taxi left without them.
Lucky for the band, Kevin Wells was on hand to give Flava Flav, Chuck D and their crew a lift to the Sheffield Arena in his Ford Focus.
The 50-year-old who is Public Enemy fan, then said he had nipped into the store for a quick autograph on the way to photograph The Enemy and Scouting For Girls.
B4 photographing @theenemyband @Leadmill and @Scouting4Girls @O2AcademySheff I gave a lift to @PublicEnemyFTP pic.twitter.com/ZkzQ2gBXgC

— kevin wells (@BigwhopperKevin) November 30, 2015
According to The Star, he said: "Public Enemy had a taxi booked for 6.30pm, but it drove off before the guys had finished signing autographs.
"People started panicking and looking for someone to drive, so I volunteered."
Kevin and the Fight The Power stars then drove to the Arena, where they apparently all sang to an impromptu rendition of Queen's Bohemian Rhapsody.
Kevin said: "They were such nice guys, we had a right laugh.We were chatting away, but the phone was constantly going as their management were clearly worried.
"Then as we were coming through Attercliffe, Bohemian Rhapsody, by Queen, came on the radio. "Everyone was singing the words and rocking out in the back of my car, it was like a Wayne's World moment."
He added: "I drove up to security and said, 'I've got the band in the back.' They looked at me as if I was having them on, but then I rolled down the windows and Chuck D showed them the security pass.
"Amazing, it just didn't feel real."
Photo: Twitter/Kevin Wells