EODM's Jesse Hughes Apologises For Suggesting Bataclan Attack Was Inside Job
14 March 2016, 11:19 | Updated: 14 March 2016, 11:36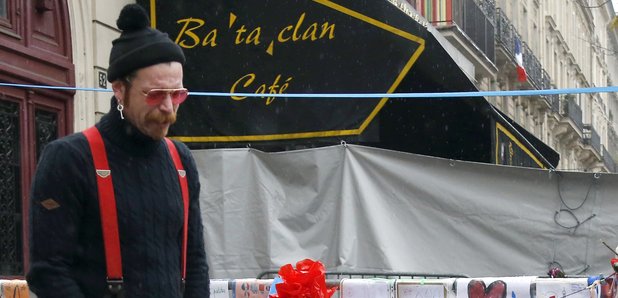 The Eagles Of Death Metal frontman has begged "forgiveness" for the recent comments he's made surrounding The Bataclan attack.
Jesse Hughes has released a statement apologising for his comments which suggested some security staff for The Bataclan on 13 November 2015 knew the attacks were coming.
Speaking to Fox Business Network about the night of the Paris terror attacks in which 89 people were killed at their Bataclan gig, the Eagles Of Death Metal frontman said: "I found out that six or so [security staff] wouldn't show up at all… Out of respect for the police still investigating, I won't make a definite statement, but I'll say that it seems like they had a reason not to show up."
The venue then responded to the I Want You So Hard singer, slamming his comments as "grave and defamatory".
Hughes has since released an official statement on the band's Facebook page, begging the people of France for forgiveness and revealing he's been dealing with "non-stop nightmares" since the attack..
See the post below:
His statement read: "I humbly beg forgiveness from the people of France, the staff and security of the Bataclan, my fans, family, friends and anyone else hurt or offended by the absurd accusations I made," Hughes said. "My suggestions that anyone affiliated with the Bataclan played a role in the events of 13 November are unfounded and baseless – and I take full responsibility for them.
"I've been dealing with non-stop nightmares and struggling through therapy to make sense of this tragedy and insanity. I haven't been myself since 13 November."
Hughes previously suggested his view on guns had been changed by the tragic events, telling French channel iTele: "I know people will disagree with me, but it just seems like God made men and women, and that night guns made them equal.
"And I hate it that it's that way. I think the only way that my mind has been changed is that maybe that until nobody has guns everybody has to have them."