WATCH: Emma Thompson Rejected Donald Trump
24 March 2017, 14:20 | Updated: 24 March 2017, 17:21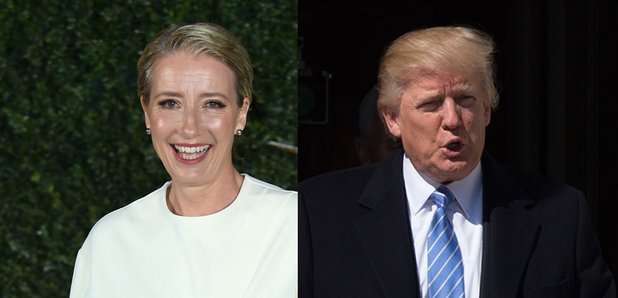 The Love Actually star says she was invited to Trump Towers in 1998.
Emma Thompson has revealed she rejected Donald Trump before he became the US President.
According to the Hollywood Reporter, speaking to a Scandinavian TV show, the British actress recalled receiving a call from the tycoon back in the '90s.
The Love Actually star revealed that while filming the 1998 film Primary Colors, the phone in her trailer rang, with the voice on the other end saying: "Hi, it's Donald Trump here".
Thompson explained: "He said, 'Yeah, I wonder if I could offer you some accommodation in one of my Trump Towers. They're really comfortable.' And I said, 'Why are you offering me somewhere to stay, in my trailer?'"
Thompson recalled the reply: "I think we would get on very well, maybe we could have dinner sometime?"
"I didn't know what to do with myself," she said. "I was on my own and I just said, 'Erm, I'll get back to you.'"
Needless to say, Thompson didn't take Trump up on his invite, but did say she kind of regrets it, joking: "I wish I had! Think of the stories!"