EODM's Jesse Hughes: "Until Nobody Has Guns Everybody Has To Have Them"
16 February 2016, 12:42 | Updated: 17 February 2016, 10:35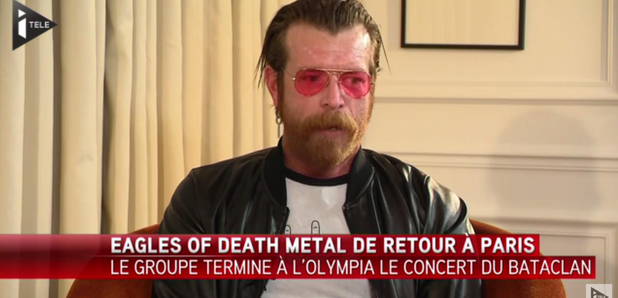 The Eagles Of Death Metal frontman has spoken out about French guns laws head of their gig in Paris.
Jesse Hughes has spoken out about gun laws, ahead of the Eagles Of Death Metal's return to the stage in Paris tonight (Tuesday 16 February).
The EODM frontman has revealed his "mind has been changed" on gun control after experiencing the Paris terror attacks on 13 November 2015, which saw 89 people lose their lives at the Bataclan - including the band's merchandise manager Nick Alexander.
Speaking to French channel iTélé ahead of their gig at the Olympia Theatre, an emotional Hughes said: "I know people will disagree with me, but it just seems like God made men and women, and that night guns made them equal. And I hate it that it's that way. I think the only way that my mind has been changed is that maybe that until nobody has guns everybody has to have them."
Hughes added: "Because I've never seen anyone that's ever had one dead, and I want everyone to have access to them. I saw people die that maybe could have lived, I don't know... I wish I knew for sure if they could have had a better chance because there were some real angels, real wonderful people in that show that aren't alive today and I really wish they were."
See the full interview below: