Eagles Of Death Metal To Release Batclan Documentary
3 November 2016, 11:08 | Updated: 4 November 2016, 20:09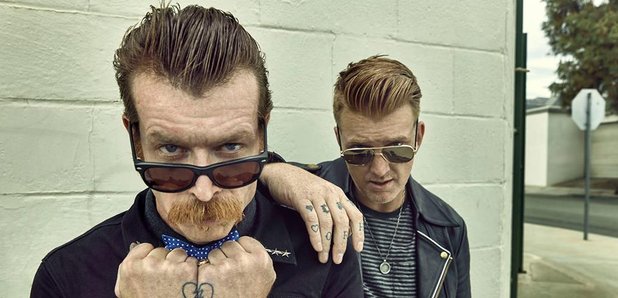 The Colin Hanks-directed film, Nos Amis (Our Friends), will focus on the "strength" needed to overcome the Paris terror attacks.
Eagles Of Death Metal will feature in a documentary about the Paris Terror attacks.
As Deadline reports, the Colin Hanks-directed film tell the story of the terrorist attack which hit their gig at the Bataclan in Paris on 13 November 2016.
Hanks - who is a friend of band members Josh Homme and Jesse Hughes - revealed that after the horriffic events, they all decided that a film about the "strength needed to overcome" the attack would be the best way they could deal with it.
The director and son of Tom Hanks added that the film was presented in three parts; first introducing the band to those who don't know their music, then chronicling the night of the tragic attack before joining the band on their return to the stage.
According to the outlet, the film - which is financed by Live Nation - is set to appear on HBO next February, and will be given an official cinematic release in order to qualify for the Oscars.
Hanks said of the project: "It's about that first step in trying to put life back together".
The news of the film comes almost one year to the day since the Paris terror attacks, which comprised of seven coordinated attacks that saw 130 people lose their lives.
While Jesse Hughes and the band were halfway through their set at the music venue, where 89 people lost their lives.
Clearly still traumatised by the attack, Hughes gave various interviews where he made comments on gun ownership and suggested the attack may have been an inside job.
However, the band returned to Paris with co-founder Josh Homme to pay their respects by laying flowers at the site of the horror.
On 16 February the band fulfilled their promise to finish their set at The Olympia in Paris.
Speaking to the crowd - which also consisted of survivors from their Bataclan show, the band observed an 89 second silence for the 89 lives lost at the Bataclan, "taking a moment to remember" the tragedy.
Thanking the crowd after their courageous set, Hughes said: "You have no idea how much I needed you tonight, and you did not let me down".
Watch Hughes address them below:
Meanwhile the Batclan is set to open its doors this month, with the likes of Sting, Pete Doherty and Senegalese singer Youssou Ndour scheduled to perform.