Eagles Of Death Metal's Jesse Hughes: "Bono Prayed With Me"
23 December 2015, 09:30 | Updated: 23 December 2015, 11:23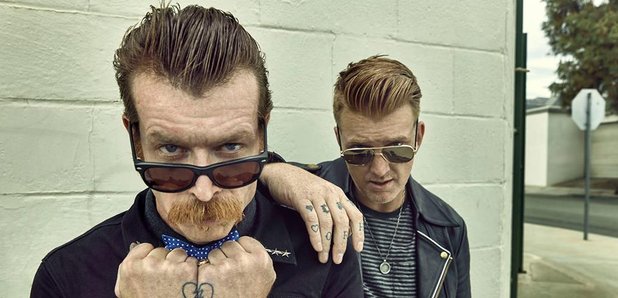 The EODM singer detailed how the U2 frontman helped the band after the Paris attacks.
Eagles Of Death Metal have thanked Bono for all his help and advice, following the tragic events on 13 November 2015, which saw a group of armed gunmen kill 90 people at the band's Bataclan gig in the French capital.
Speaking to Rolling Stone, frontman Jesse Hughes has gone into detail about the help the U2 frontman gave, saying he prayed with him and told him to call his mother.
"Bono knows that I'm a Christian and he also knows I'm a mama's boy," he revealed.
"The very next day [after the attack], a courier came with a phone that had a note that said, 'This is from Bono. Make sure you call your mom.' I thought that was awesome. It was the first time that I really got to talk to my mom without being in a police station and that meant the whole world to me at that moment."
Hughes continued: "Bono called because I needed advice. I felt like the best person to ask for advice on how to deal with this is someone who's rubbed elbows with world leaders. And he just prayed with me on the phone. He kept my head off of things and then U2 visited the memorial site and delivered lyrics of ours that he thought were appropriate. And that particularly was important to me because I really wanted to be out there. I didn't want to be in some safe house.
"I take personal pride in being really close to my fans. I knew a lot of the people personally that didn't make it and that little detail, just on a personal note, is something that nobody else would ever know that it mattered, but it mattered to me. I didn't know how I was ever going to get back onstage again."
Describing their Play It Forward campaign, which asks bands to cover their I Love You All The Time track, co-founder Josh Homme explained: "We took a cue from Duran Duran, which is a really cool sentence for me to say."
"My first idea was that everyone should cover Save a Prayer for charity," Hughes added. "But 'I Love You All the Time' was the next song on the set list in Paris, which made it even more symbolic."

Artists have responded in their droves, with the likes of Florence and The Machine, The Maccabees, Kings Of Leon, Imagine Dragons and Jimmy Eat World.

The band responded on Twitter, writing: "We are humbled by the outpouring of support from so many incredible artists," with Jesse Hughes telling Rolling Stone ""I had no idea how eager and how sincere the response would be".