Eagles Of Death Metal Honour Bataclan Victims With 89 Seconds Of Silence At Paris Gig
17 February 2016, 10:29 | Updated: 17 February 2016, 10:34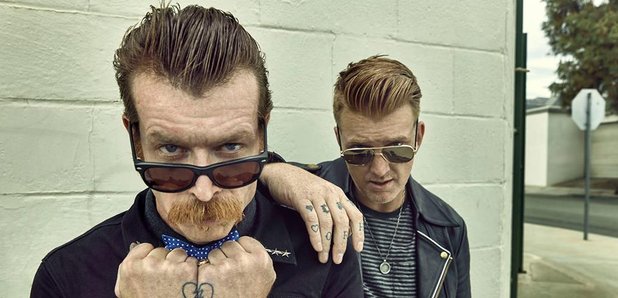 The band returned to Paris for their first headline gig at the Olympia last night.
Eagles Of Death Metal played their gig at The Olympia, Paris last night (Tuesday 16 February), three months after the terror attacks which hit their concert at the Bataclan.
Jesse Hughes, Josh Homme and co. played their first headline show in the French city, after promising to finish the set which was blighted by the tragic events of Friday 13 November 2015.
Speaking to the crowd - which also consisted of survivors from their Bataclan show - Hughes said: "Bonsoir Paris, we're ready for this!"
Halfway through their track, I Only Want You, the band observed an 89 second silence for the 89 lives lost at the Bataclan, "taking a moment to remember" the tragedy which was part of seven co-ordinated attacks which killed 130 people in the city.
Thanking the crowd after their courageous set, Hughes said: "You have no idea how much I needed you tonight, and you did not let me down".
Watch a clip posted by a fan on Instagram below:
The frontman previously gave an emotional interview to French channel iTélé ahead of their gig, revealing his thoughts on gun control had changed.
Hughes said: "I know people will disagree with me, but it just seems like God made men and women, and that night guns made them equal. And I hate it that it's that way. I think the only way that my mind has been changed is that maybe that until nobody has guns everybody has to have them."
See the full interview below: