Damon Albarn Talks Working With Noel Gallagher For New Gorillaz Album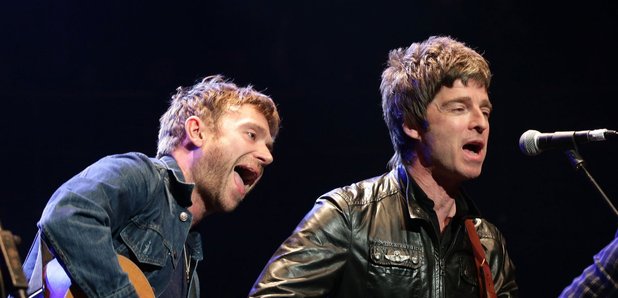 The Oasis legend sings backing vocals on We Got The Power, which features on the Gorillaz new Humanz LP.
Damon album says it was "fantastic" working in the studio with Noel Gallagher for Gorillaz's new Humanz album, which is set for release on 28 April 2017.
The Oasis man provided backing vocals on the animated band's new track, We Got The Power, which features Savages' Jehnny Beth.
Asked about recording with Gallagher, Albarn told Radio X's Gordon Smart: "Its really great, he's fantastic in the studio. Its nice when you see how someone goes about their business. He's great."
Talking about the process involved in making the track, the Blur frontman revealed: "At one point this song had Graham (Coxon), Noel and me on it and it was sort of heading slightly in the wrong direction.
"It was becoming almost retro in its sort of spirit and way too rocky for this record so I kind of stripped it right back down again. We play it slightly different live then how it is on the record. It's sort of the song that comes on during the final titles of a film. The climax. I thought Jehnny would take a bit of the testosterone off."
Listen to We Got The Power now!
Gorillaz today announced their brand new Humanz album, which includes star-studded collaborations with the likes of Benjamin Clementine, De La Soul, Grace Jones, Vince Staples, Pusha T and Rag'n'Bone Man.
The news came alongside Jamie Hewlett-directed epic videos, which previewed four new tracks in Saturnz Barz, Ascension, Andromeda, and We Got The Power.
Watch the video to Saturnz Barz now.
Get the full tracklist for Humanz here:
1. Ascension feat. Vince Staples
2. Strobelite feat. Peven Everett
3. Saturnz Barz feat. Popcaan
4. Momentz feat. De La Soul
5. Submission feat. Danny Brown & Kelela
6. Charger feat. Grace Jones
7. Andromeda feat. D.R.A.M.
8. Busted and Blue
9. Carnival feat. Anthony Hamilton
10. Let Me Out feat. Mavis Staples & Pusha T
11. Sex Murder Party feat. Jamie Principle & Zebra Katz
12. She's My Collar feat. Kali Uchis
13. Hallelujah Money feat. Benjamin Clementine
14. We Got The Power feat. Jehnny Beth
Bonus material on Deluxe:
15.The Apprentice feat. Rag'n' Bone Man, Zebra Katz & RAY BLK
16. Halfway To The Halfway House feat. Peven Everett
17. Out Of Body feat. Kilo Kish, Zebra Katz & Imani Vonshà
18. Ticker Tape feat. Carly Simon & Kali Uchis
19. Circle Of Friendz feat. Brandon Markell Holmes