Corey Taylor: Slipknot fans have a "Twin Peaks" vibe to them
16 October 2014, 15:23 | Updated: 20 October 2014, 14:40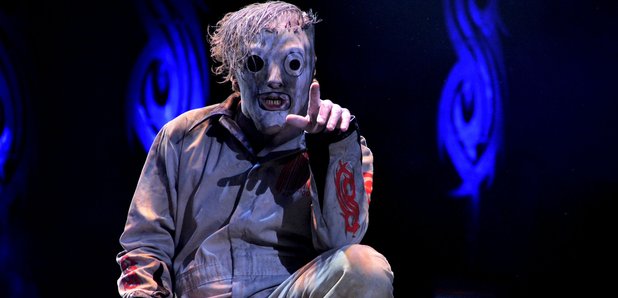 The frontman with the million-selling rock band from Iowa has been telling Radio X that the internet is full of "ridiculous" stories about Slipknot, but that he enjoys the attention. They've even been included in JFK assassination conspiracy theories.
Speaking to Radio X's Ian Camfield on this week's Radio X Rock Show, Taylor said of the rumours: "It's pretty ridiculous, you stay as far away from the windows as possible. It gets weird with our fans, it's great… but there's almost a Twin Peaks vibe to it…

"At one point there was a message board dedicated to measuring the forehead of one of the models in The Negative One video - I promise, this is true. I'm reading this, going… wow.

"At one point they had us killing JFK. I wasn't even ALIVE then! But apparently the technology exists that Slipknot as a whole could travel back to '63, pull the trigger, get right back out and back into the studio…

As Slipknot prepare to release their new album 5: The Gray Chapter next week (20 October), Corey admitted that the interest helped the band.

"I think it's great. I've always said: I'd rather have people talking about me, whether it's negative or positive, than not talking at all. As long as your name is in the conversation, it's carrying on the legacy.

"Trust me: I'm one of the most hated dudes right now. You have no idea. The stuff that's coming out of some of these people's mouths… If I took any of it seriously, I'd be curled up in a foetal position on the bed, sucking my own thumb."

But Corey had a warning for anyone who bad-mouthed him. "For all you trolls out there, I'm taking down names and addresses!" he said. "I'm coming to find all of you. I have a giant computer print out and you're gonna get sucked up as soon as I see you!"

Slipknot have announced details of a UK tour with Korn in January 2015. Tickets go on sale at 9am tomorrow (17 October).

Slipknot and Korn tour dates:

16 January 2015 Motorpoint Arena, Sheffield
18 January 2015 SSE Hydro, Glasgow
19 January 2015 Metro Radio Arena, Newcastle
20 January 2015 Manchester Arena
22 January 2015 Echo Arena, Liverpool
23 January 2015 SSE Arena, Wembley, London
24 January 2015 Motorpoint Arena, Cardiff
26 January 2015 Capital FM Arena, Nottingham
27 January 2015 Barclaycard Arena, Birmingham