Corey Taylor Showed A Fan What Happens When You're On Your Phone At A Slipknot Gig...
11 July 2016, 13:11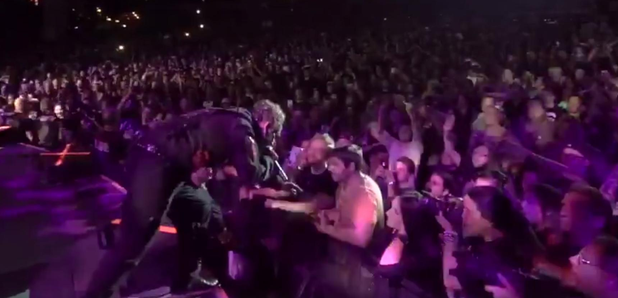 Watch the clip, which sees the Wait And Bleed frontman react to a fan using his phone in the front row.
Slipknot's Corey Taylor was captured swatting a phone out of a fan's hand at a recent gig.
In a 13-second video posted by on the band's official Facebook page, the masked frontman can be seen walking up to a fan with his head buried in his phone, and smacking it right out of his hand.
Watch the clip below:
Since another fan was filming right next to him, we're guessing it was probably texting that the Wait In Bleed singer didn't take kindly to.
Although the gig-goer seemed to take it all in his stride, the frontman's actions seem to have to have divided other Slipknot fans, with some calling it a "dick move," while others thought he was lucky he didn't get anything worse.
What do you think about Corey Taylor's reaction? Let us know below:
Picture: Facebook/Slipknot