Chester Bennington's Wife Talinda Issues Statemtent
28 July 2017, 16:13 | Updated: 28 July 2017, 16:15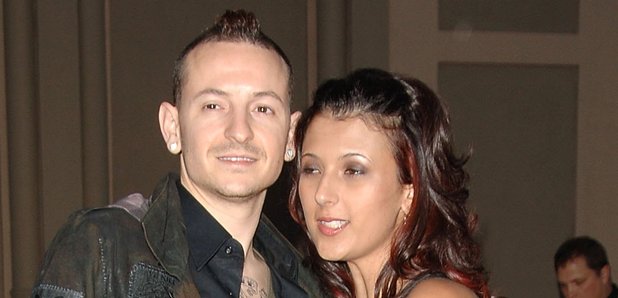 The Linkin Park frontman's widow has spoken out following his tragic suicide.
Talinda Bennington has broken her silence following the passing of her husband Chester Bennington.
The Linkin Park singer was found dead on Thursday (20 July), and this week it was confirmed that the cause of death was suicide.
Now, as reported by Rolling Stone, his wife Talinda has released a statement, which reads: "One week ago, I lost my soulmate and my children lost their hero – their Daddy. We had a fairytale life and now it has turned into some sick Shakespearean tragedy," Talinda wrote.
"How do I move on? How do I pick up my shattered soul? The only answer I know is to raise our babies with every ounce of love I have left. I want to let my community and the fans worldwide know that we feel your love. We feel your loss as well. My babies are so young to have lost their daddy. And I know that all of you will help keep his memory alive."
She added: "He was a bright, loving soul with an angel's voice. And now he is pain-free singing his songs in all of our hearts. May God bless us all and help us turn to one another when we are in pain. Chester would've wanted us to do so. Rest In Peace, my love."
Bennington tragically took his own life on what would have been his good friend Chris Cornell's 53rd Birthday.
See the Numb frontman singing at Cornell's funeral:
At the news of his passing Chris Cornell's wife, Vicky, took to Twitter to write: "Just when I thought my heart couldn't break any more.....I love you T"
Just when I thought my heart couldn't break any more.....I love you T

— Vicky Cornell (@vickycornell) July 20, 2017
Tributes have continued to pour in for the Numb singer from across the music world.
Jared Leto gave a heartfelt speech about his friend during 30 Seconds To Mars' gig last weekend at Jones Beach Theater.
See a clip of the moment courtesy of YouTube account Nag:
Before playing a moving version of their Alibi track, the Suicide Squad actor said: "It's been a really tough few days. We said goodbye to somebody in recent days who was an amazing artist and an incredible human being. Somebody who I know probably touched almost every body in this entire amphitheatre."
He added: "He taught me so much, and when I close my eyes and think about him, I think about his face, which was always smiling. I think about his heart which he wore on his sleeve."
This week Chris Moyles and the Radio X breakfast team even took a moment to marvel over Bennington's vocal talent.
Watch him play Chester Bennington's isolated vocals on Linkin Park's hit, Numb:
See Chester Bennington perform his last ever show with Linkin Park in Birmingham:
HEADS TOGETHER
Too often, people feel afraid to admit that they are struggling with their mental health. This fear of prejudice and judgement stops people from getting help and can destroy families and end lives. Heads Together wants to help people feel much more comfortable with their everyday mental wellbeing and have the practical tools to support their friends and family.
One of their partners is the Campaign Against Living Miserably (CALM), an award-winning charity dedicated to preventing male suicide, the single biggest killer of men under the age of 45 in the UK. In 2015, 75% of all UK suicides were male.
CALM offers support to men in the UK, of any age, who are down or in crisis via our helpline, webchat and website.
NATIONWIDE: 0800 58 58 58
LONDON: 0808 802 58 58
Calls are free from landlines, payphones and all mobiles.
For more on Heads Together, see www.headstogether.org.uk
Worried about someone? Click here
https://www.thecalmzone.net/help/worried-about-someone/