Debbie Reynolds Dies One Day After Daughter Carrie Fisher
29 December 2016, 11:20 | Updated: 29 December 2016, 11:40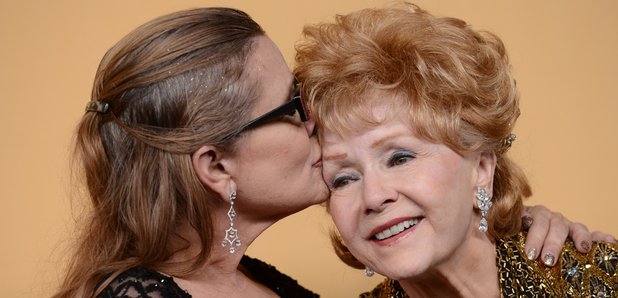 According to reports, the 84-year-old actress told her son she would "like to be with Carrie" 15 minutes before having a severe stroke.
Debbie Reynolds has died, aged 84, just one day after losing her daughter Carrie Fisher.
The Hollywood legend is believed to have been rushed to Cedars Sinai medical centre from her son's house on Wednesday (28 December), where she died hours after suffering from a severe stroke.
As reported by The Guardian, Reynolds' son Todd Fisher has revealed that the Oscar-nominated actress said she wanted to be with her daughter just 15 minutes before.
Just one day previously Reynolds - famous for her roles in Singin' In The Rain, Will & Grace and Behind The Candelabra - took to Facebook to thank the public for their support following the death of her own daughter, writing: "Thank you to everyone who has embraced the gifts and talents of my beloved and amazing daughter. I am grateful for your thoughts and prayers that are now guiding her to her next stop. Love Carries Mother".
Carrie Fisher died, aged 60, on the morning of 27 December 2016. The actress - who is most famous for playing Princess Leia in Star Wars - passed away days after suffering a cardiac arrest while on a flight from London to LA.
In a statement released on behalf of Fisher's daughter Billie Lourd, spokesman Simon Halls said "It is with a very deep sadness that Billie Lourd confirms that her beloved mother Carrie Fisher passed away at 8.55 this morning.
"She was loved by the world and she will be missed profoundly. Our entire family thanks you for your thoughts and prayers."
Now, following the news of her Grandmother's death, Lourd has shared an image of herself with her late mother and grandmother at the 2015 Screen Actors Guild Awards.