What does a car crashing into a radio station sound like? Like THIS.
11 February 2016, 06:00 | Updated: 25 April 2016, 15:14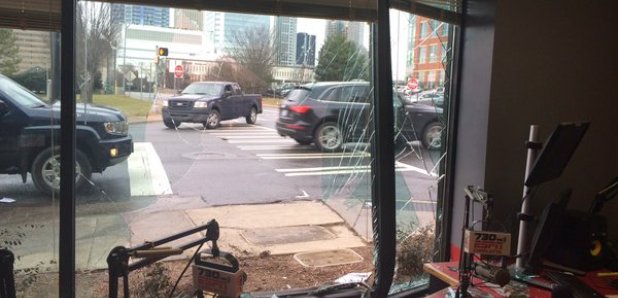 Presenters on a US station were shocked and alarmed when a ve-hickle accidentally smashed into their front window. HAVE A LISTEN.
Here at Radio X, we all have our own "worst fears". What if you put the microphones live and can't think of anything to say? What if you accidentally play the uncensored version of Rage Against The Machine's Killing In The Name? What if you have to play the new single by your least favourite act ever?
Well, one radio presenter's worst nightmare came TRUE on Monday afternoon (8 February).
ESPN 730, a sports station in Charlotte, North Carolina, is based on the busy East Morehead Street at ground level. Midway through the afternoon show with Marty Hurney, a huge crash was heard - have a listen, courtesy of Radio Today:
"Folks we just had an accident," Hurney says in the clip. "So we are going to head to a break."
So this just happened pic.twitter.com/bWDtM4Nmxy

— Jeff Caruso (@JeffCaruso730) February 8, 2016
According to the local Charlotte Observer, it transpires that two cars collided at the crossroads just outside the studios, sending one vehicle straight into the window of the station.
Hurney was a former manager of the Carolina Panthers, who lost the Superbowl at the weekend and was just about to wrap up his show when the incident happened.
"We were actually hearing the music in our ears when we heard the crash," Hurney told the paper. "I heard the crash, and then we got out."
"I was sitting right there," Hurney told reporters, pointing to a chair which was now covered in sharp pieces of glass. The paper reports that one person was taken away in an ambulance, but that nobody else was hurt.
Radio X is thankful that we broadcast from the third floor, overlooking a pedestrianised Leicester Square.