WATCH: Builders Play Real-Life Human Whack-A-Mole Game
7 March 2016, 15:20 | Updated: 7 March 2016, 15:41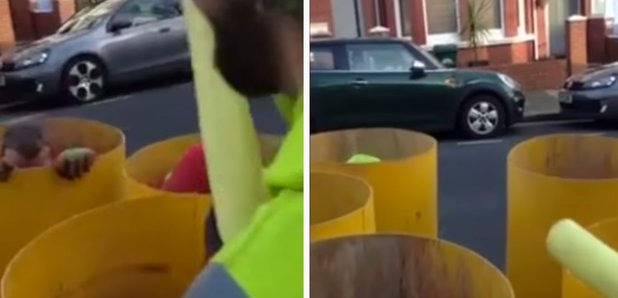 The scaffolders decided to get seriously creative after work.
These scaffolders have finally solved the riddle of what buliders get up when our backs are turned... and it turns out it's a whole lot of fun.
After wrapping up a hard days work for his dad's business, Seasons Scaffolding, Jordan Eason and his co-workers decided to play a little harmless Whack-A-Mole... with each other.
They created their version of the the arcade game with Eason trying to hit workmates Sam Smith, Oliver Terry, John Bell, Lewis Brindley and Dean Jones with a foam tube, while they bobbed up and down in plastic chutes.
Watch them in action below:
Speaking to the Daily Mail, Eason said: "We're a hard-working bunch but we like to have a laugh at the end of a long day.
"We've made a few wacky videos but on that day I just saw the chutes and the first thing I thought of was whack-a-mole.
"My dad would go nuts if he thought we were doing that during work, but it was 4.30pm and we'd clocked off so I thought: why not?. It was pretty spur-of-the-moment."
Well, we're guessing his dad probably knows now!
It looks like their game isn't a completely new idea either, with these construction workers deciding to do the same thing with manholes and a rubber mallet back in 2015.
Don't try this at home kids: