WATCH: Bradley Walsh Totally Won The BRITs Last Night...
23 February 2017, 12:15 | Updated: 23 February 2017, 18:46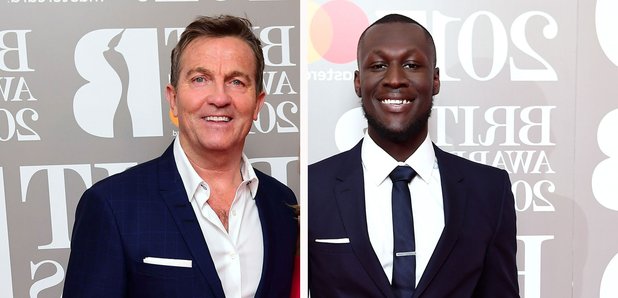 The Chase presenter wants to do a collab with his mate Stormzy!
Last night saw the biggest and best in UK glitterati gather for the BRIT Awards.
But among the glitterati, it was Bradley Walsh who totally stole the show, revealing his new friendship with grime star Stormzy and generally being an all-round good egg.
The Chase presenter was invited to the awards ceremony after scoring the biggest debut album of 2016, but he still seemed totally grateful and shell-shocked to be at the show.
See his interview on the red carpet for NME here:
Bumping into Stormzy, who called him a "legend," the 56-year-old presenter said: "My mate Stormzy, that. We hang together. Do a bit of grime. What else do we do, grunge? No, just grime.
"Definitely grime. Bruno Mars, he's here, he's my mate.
"We have something in common. He's from Hawaii. I like Hawaiian pizza. That's quite cool. Other than that, I don't know why I'm here."
Then talking about a Stormzy collab, he joked: "Me and Stormzy we are going to do an album. We're gonna do an album of Nelson Riddle arrangements in grime form. It's gonna be called 'Griddle'. We're looking forward to it, we're gonna collaborate. "