Bono: "U2 are more punk rock now than when we started"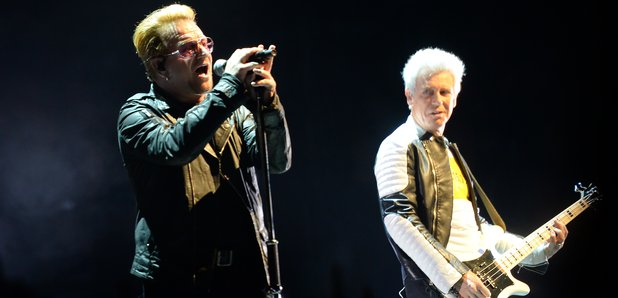 U2's Bono and Adam Clayton talk the joys of touring and completing tacks for their new album on The Chris Moyles Show.
Bono has revealed U2 are more "punk rock" now than they ever were. The frontman and bassist, Adam Clayton, came in to The Chris Moyles Show this morning (28 October), to chat about everything from their new tracks to their current Innocence + Experience tour.
Asked about their huge performances, Bono revealed: "What's so great is to be on stage making that noise that only a Rock 'N' Roll band can make.
"And for (Radio) X and the music you play, it's a great thing when you hear artists like Jimi Hendrix. I'm not nostalgia orientated, but I am orientated to that sound, that rage, and that's Rock 'N' Roll. And that's in our show".
He added: "It's funny 'cause we're more punk rock now than we were when when we started.
"In fact when we first started, in the early days of punk, somebody shouted at us on stage: 'There's more punk in The Monkees!'"
The frontman added that the band had "10-12" tracks already written for their new album.
U2 continue their Innocence + Experience Tour this Thursday (29 October) at London's O2 Arena and end their run of gigs at Dublin's 3Arena on 28 November.