Bono: Nelson Mandela was a "remarkable man"
6 December 2013, 10:00 | Updated: 6 December 2013, 11:16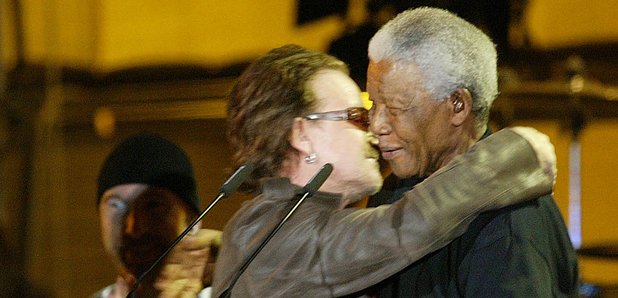 The U2 singer has been paying tribute to the politician, whose death was announced last night (5 December).
The 95-year-old was instrumental in the deconstruction of apartheid in South Africa and became the country's first black president following his imprisonment for 27 years.

Writing for Time magazine, Bono said: "As an activist I have pretty much been doing what Nelson Mandela tells me since I was a teenager. He has been a forceful presence in my life going back to 1979, when U2 made its first anti-apartheid effort."

He went on to say: "Mandela would be remembered as a remarkable man just for what happened—and didn't happen—in South Africa's transition. But more than anyone, it was he who rebooted the idea of Africa from a continent in chaos to a much more romantic view, one in keeping with the majesty of the landscape and the nobility of even its poorer inhabitants."

Mandela's death was announced in the UK as the premiere to the new film about his life took place in London. U2 have contributed a new song, Ordinary Love, to the soundtrack.