Bono on Eagles Of Death Metal: "They really need proper counselling".
3 December 2015, 16:00 | Updated: 3 December 2015, 18:49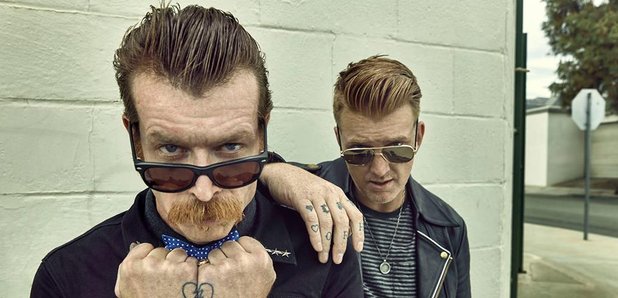 The U2 star revealed how he helped the band by buying new phones and offering his jet.
Bono thinks the Eagles Of Death Metal need "proper counselling", following the tragic attacks in Paris on Friday 13 November.
The band were playing a gig at The Bataclan in Paris last month, where gunmen killed at least 89 people and critically injured several others.
Now, speaking to The New York Times, the U2 frontman has revealed he has spoken to EODM co-founder Jesse Hughes and thinks the band could be suffering from "post-traumatic stress disorder".
He said: "Jessie took me through every moment. They really need proper counselling, though - not from a well-meaning Irish rock star.
"Because post-traumatic stress disorder is a real issue for people who go through these things. They're going to come through fine, but it was pretty bad."
The One singer also explained how he offered help to the band, by giving them a way to communicate after they lost their phones and offering up his private jet.
"We had a plane, which we put at the Eagles' use if they wanted it, but they found another way. The best thing we could do for our fellow musicians was to buy them phones," he explained.
"I spoke to Julian [Dorio] and Jesse. But that was the best thing, Jesse said, just getting the phones to be texting and all the stuff that you do - social media - to find out what's going on. Their phones were in the venue."
Eagles Of Death Metal gave their first interview since the atrocities to Vice last month. In the harrowing video, the band retold events from their perspective and pledged to return to The Bataclan to play a gig.
The band also asked fans and musicians to cover their single, I Love You All The Time, so all the proceeds would go to the victims of the Paris attacks.
U2 also vowed to return to the city, and confirmed they will play two shows this weekend on 6 and 7 December 2016.