Bob Dylan Skips President Obama's Meeting With Nobel Laureates
1 December 2016, 12:43 | Updated: 1 December 2016, 18:49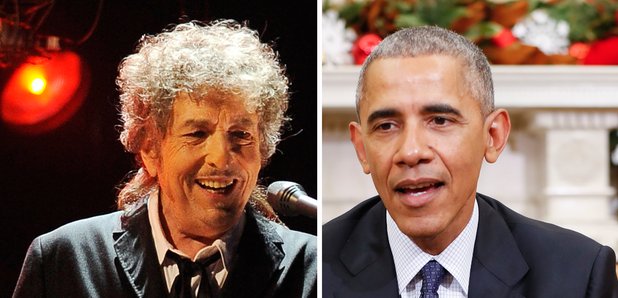 The singer-songwriter will not attend the awards ceremony in Sweden this month.
Bob Dylan failed to attend a meet-and-greet with President Obama for US Nobel Laureates at the White House yesterday (30 Novmeber).
The 75-year-old singer-songwriter - who has been awarded with the 2016 Nobel Prize in Literature - was notably absent from the event, which saw several of this year's winners gather with the POTUS for a private conversation in the Oval Office.
Dylan was also slow to publicly acknowledge the award, only changing the bio on his website for a fleeting 24 hours, and addressing the honour in an interview with the Telegraph two weeks later.
Back in October, President Obama congratulated the Blowin' In The Wind star, calling him one of his favourite poets.
Congratulations to one of my favorite poets, Bob Dylan, on a well-deserved Nobel. https://t.co/c9cnANWPCS

— President Obama (@POTUS) October 13, 2016
The news comes after it was confirmed the singer-songwriter would also not be attending the award ceremony in Sweden on 10 December due to "pre-existing commitments".
The Swedish Academy's statement at the time read: "Yesterday evening the Swedish Academy received a personal letter from Bob Dylan, in which he explained that due to pre-existing commitments, he is unable to travel to Stockholm in December and therefore will not attend the Nobel Prize Ceremony.
"He underscored, once again, that he feels very honored indeed, wishing that he could receive the prize in person."
However, the Academy added that Dylan would fulfil his responsibility to give a Nobel Lecture, which is the "only requirement" of winning the prize.
The concluded: "We look forward to Bob Dylan's Nobel Lecture, which he must give – it is the only requirement – within six months counting from December 10, 2016.