Bob Dylan's High School Pays Tribute Following Nobel Prize
18 October 2016, 15:06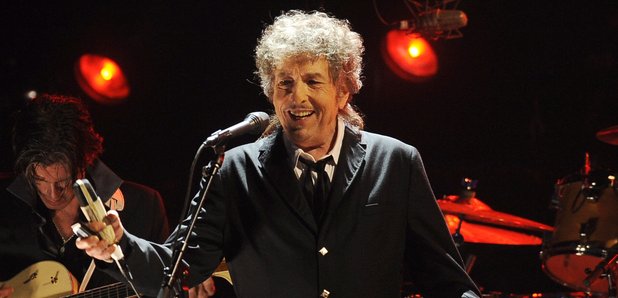 Hibbing High School congratulated their former student with a touching sign on their notice board.
Bob Dylan's high school has paid tribute to the icon, following the news that he will receive the 2016 Nobel Prize in Literature.
The Like A Rolling Stone singer was honoured by Hibbing High School in Minnesota, who changed the notice board sign which sits on their front lawn.
See it below, courtesy of Twitter user Carly Melin:
Hibbing High School honoring graduate and Nobel prize winner Bob Zimmerman. N/K/A Bob Dylan. #IronRange #Minnesota pic.twitter.com/3Hue4mBaEp

— Carly Melin (@carlymelin) October 18, 2016
The sign, which reads "Congrats to Bob Zimmerman class of 1959 who received a Nobel Prize in Literature," also prompted fans to share pictures that appear to be from the 75-year-old's yearbook.
@BillySz1 @carlymelin @Thomg57 pic.twitter.com/B9D3x4GS1x

— Brian (((Levinson))) (@BrianBLevinson) October 18, 2016
Bob Dylan, who will recieve the Nobel Prize "for having created new poetic expressions within the great American song tradition," follows in the footsteps of the likes of Rudyard Kipling, Albert Camus and Toni Morrison to take the prize.
Bob Dylan is the first Nobel Laureate to receive both a Nobel Prize and an Oscar since George Bernard Shaw, who was honoured in 1925.
The award ceremony will take place on 10 December 2016, but it remains to be seen whether Dylan will be there to accept the prize.
According to The Telegraph, the Blowing In The Wind singer is yet to respond to the accolade, which was announced last Thursday (13 October).