Travis Barker On UK Tour Travel Plans: "There's Only One Way"
9 November 2016, 14:34 | Updated: 9 November 2016, 14:43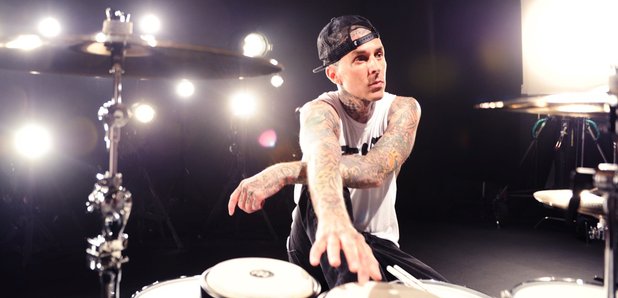 The Blink 182 drummer hasn't flown since a tragic plane crash in 2008, where he sustained severe burns.
Travis Barker has confirmed that he'll be travelling on a cruise ship to play Blink 182's UK tour dates.
The All The Small Things drummer hasn't flown since a tragic plane crash in 2008, which saw four people lose their lives and left him with severe burns.
When asked by Radio X's Dan O'Connell how he'd be travelling next July, he replied: "For me, there's only one way to get there and that's on a boat.
"It's like 10 days."
The drummer continued: "What works for me, I spend the time working out, I usually run an hour and a half a day 'cause our shows are about an hour and a half. I usually play drums 2-3 hours a day and then I usually bring a studio and I just work on production and music for other artists that I'm working with".
Barker - who is known for his collaborations with everyone from Busta Rhymes to Slash - revealed that he isn't the only musician on the Queen Mary 2 ship, either.
"Everyone on the boat is super supportive," said the 40-year-old star. "I play with some of the bands on the Queen Mary 2. And even some of the workers have a band where they play covers and I just hang out with them and play drums with them.
He concluded: "I make the most of my time on there and have fun."
Barker has previously talked about the trauma he suffered following his near-fatal crash - where two close friends and the two pilots died - telling ABC News he offered his friends a million dollars to take his life.
In his recent autobiography entitled, Can I Say: Living Large, Cheating Death, And Drums, Drums, Drums, the drummer also revealed that former Blink singer Tom DeLonge wasn't as supportive as he could have been.
Talking about his decision to include gruesome pictures of his injuries in the book, he told Radio X: "I got those pictures [taken] because Tom, especially, was pressuring me to fly again. I tried to explain it to him, like 'I can't do it yet, I'm not ready'.
"So I ended up showing Tom and Mark (Hoppus), although Mark was always very supportive from day one. He even visited me in the hospital."
He added: "Whereas, with Tom, there was constant pressure."
Blink 182 will embark on their UK tour dates from 3-19 July 2017.
See their full tour announcement here:
2017

https://t.co/O0mTEIsHf8 pic.twitter.com/npEkFomPu7

— blink-182 (@blink182) November 6, 2016