Black Grape To Reissue Classic Debut Album
14 September 2016, 09:00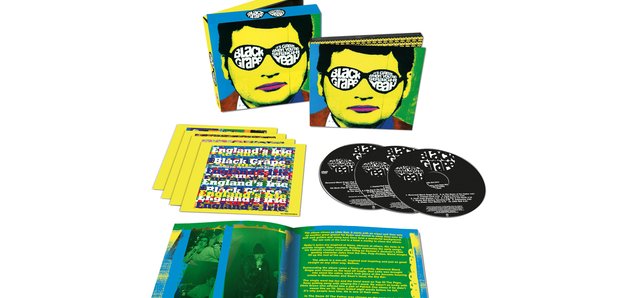 It's Great When You're Straight… Yeah will get the full deluxe treatment - three whole discs of stuff!
It's 21 years since Shaun Ryder and the ever-faithful Bez released the first offering from their post-Happy Mondays project, Black Grape.
It's Great When You're Straight… Yeah saw the duo team up with former Rap Assassin Paul 'Kermit' Leveridge, Carl McCarthy, drummer Ged Lynch and guitarist Wags (formerly of cult Mancunian band Paris Angels).
The album debuted at number 1 and spawned three classic singles: Reverend Black Grape, In The Name Of The Father and Kelly's Heroes.
Now, to celebrate, a Deluxe Edition is to be issued, containing three discs, featuring the original album and rare B-sides with remixes from artists such as Goldie, live tracks from the band's 1996 Brixton Academy performance, a DVD featuring official music videos, TOTP and Later With Jools Holland appearances, and a 20-page booklet featuring postcards and rare photos, with sleevenotes by Paolo Hewitt.
The package will also include the band's unofficial Euro '96 football song, England's Irie, which featured guest vocals from legendary Clash frontman Joe Strummer.
This special package is released on 4 November, just in time for a full UK tour by the band.
Pre-orders will give fans the chance to receive a limited signed deluxe copy and have the chance to win a pair of tickets to a show on the tour.
The album will also be available as a one disc standard CD and on 180g heavyweight vinyl.
Black Grape - It's Great When You're Straight… Yeah full tracklisting:
Disc 1
1. Reverend Black Grape
2. In The Name Of The Father
3. Tramazi Party
4. Kelly's Heroes
5. Yeah Yeah Brother
6. A Big Day In The North
7. Shake Well Before Opening
8. Submarine
9. Shake Your Money
10. Little Bob
Disc 2
1. Tramazi Parti (Live – Brixton Academy 1996)
2. Shake Well Before Opening (Live – Brixton Academy 1996)
3. Little Bob (Live – Brixton Academy 1996)
4. Kelly's Heroes (Live – Brixton Academy 1996)
5. Shake Your Money (Live – Brixton Academy 1996)
6. A Big Day In The North (Live – Brixton Academy 1996)
7. England's Irie
8. Yeah Yeah Brother (Outlaw Josie Wales Mix)
9. Kelly's Heroes (Milky Bar Kid Mix)
10. Fat Neck (Beat The Fuck Down Mix by Goldie)
11. Reverend Black Grape (The Crystal Method Edit)
12. Pretty Vacant (Live)
13. In The Name Of The Father (Choppers Mix)
14. Yeah Yeah Brother (Clockwork Orange Mix)
15. Reverend Black Grape (Dark Side Mix)
16. England's Irie (Pass The Durazac)
17. Land Of 1000 Karma Sutra Babes
DVD
• Reverend Black Grape (Top Of The Pops 1995)
• Tramazi Party (Jools Holland 1995)
• In The Name Of The Father (Jools Holland 1995)
• Reverend Black Grape (Jools Holland 1995)
• Fat Neck (Top Of The Pops 1996)
• England's Irie (Top Of The Pops 1996)
• Reverend Black Grape (Official Video)
• In The Name Of The Father (Official Video)
• 2X Handy Hints from Bez