Bill Murray Gives Baseball Fan A Ticket To The World Series
3 November 2016, 15:07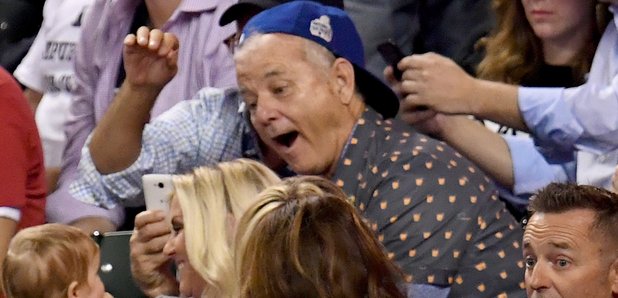 The lucky Cubs fan found herself sat with Bill to watch the team win their first World Series game in 108 years.
Everyone thinks Bill Murray is brilliant - he's like your favourite eccentric uncle who has a million amazing stories to tell, and we all love him for it.
Universal appreciation of Bill Murray is a fact, but one fan has publicly thanked the actor after he gave her a ticket to see their favourite baseball team, the Cubs, win their first World Series game in 108 years!
Karen Michel was left visibly disappointed after unsuccessfully managing to get hold of a ticket for the game, and told People, "Bill walked right by me, grabbed me and gave me a ticket!" She sat next to Bill and said they were "chattin' like old friends!"
Bill Murray gave a random @Cubs fan his extra #WorldSeries Game 6 ticket because that's just how Bill Murray rolls: https://t.co/Mxr5uCcFS3

— Cut4 (@Cut4) 2 November 2016
The two sports fans got on like a house on fire, she claims, and were surrounded by celebrities including Eddie Vedder of Pearl Jam, who led a singalong at the event.
Watch him sing Take Me Out To The Ball Game here:
For David Ross. @PearlJam frontman Eddie Vedder leads @Cubs' fans in 'Take Me Out To The Ballgame'. #WorldSeries pic.twitter.com/almL4eCAgb

— FOX Sports: MLB (@MLBONFOX) October 31, 2016
The lucky fan even got to sit next to Murray and witness this first hand:
This is what pure joy looks like. #Cubs #BillMurray #FlyTheW pic.twitter.com/x19Lom8Bow

— Rich Cutter (@richcutter) 3 November 2016
Beautiful.