Bez Backing Urban Beekeeping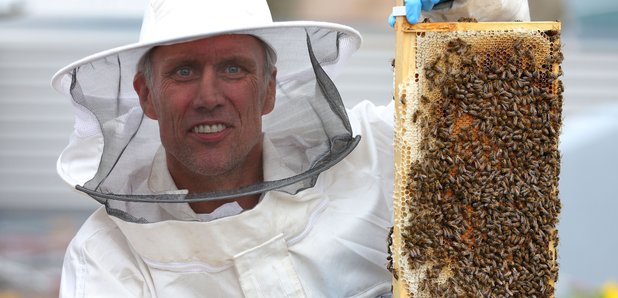 Bez from the Happy Monday has become a beekeeping ambassador.
He's part of a green initiative in Manchester trying to get people to follow in his footsteps and set up urban beehives.

Britain's honey bee population has been devastated by last year's long winter and wet summer but the insects are vital for pollinating crops and flowers.

Bez - who now lives part-time on a commune, the Cwm Yr Hoel Farm near Swansea in south Wales - returned to his hometown to promote beekeping.

Two new hives have been set up on the rooftops of the Printworks entertainment complex in the city centre, one by the firm itself and a second by the Hard Rock Cafe.

Bez, whose real name is Mark Berry, has been inspecting the rooftop hives alongside Canon Adrian Rhodes, who already keeps four hives on the roof of Manchester Cathedral.

Bez said: "My grandad, when he came home from the war, the only thing he came home with was four massive tins of honey and ever since honey has been part of our family life - on our cereal and in our tea.

"I'm getting on a bit, don't know what I'm going to do, no pension pot and the prospect of growing old in the city, well...

"So I met these people a few years ago doing community type of living, land sharing, living in a community way. You can live on next to nothing.

"It's about living the social life but keeping the party going and have a bit of fun.

"Lots of lads come down from Manchester with me."

He's not even been put off by the fact he got stung in a very sensitive area after leaving his trouser zip undone and not covered by his bee-keeping outfit.

He said around 100 bees got inside his pants and he had to run into the woods away from the hive but was "stung everywhere" inside his trousers.

New hives and bees can cost up to £800 but Bez said he was lucky enough to have bought his for £50 off "some fella" who no longer wanted a colony.