WATCH: Benedict Cumberbatch Walked Into A Comic Book Store As Doctor Strange...
5 April 2016, 14:56 | Updated: 25 April 2016, 13:26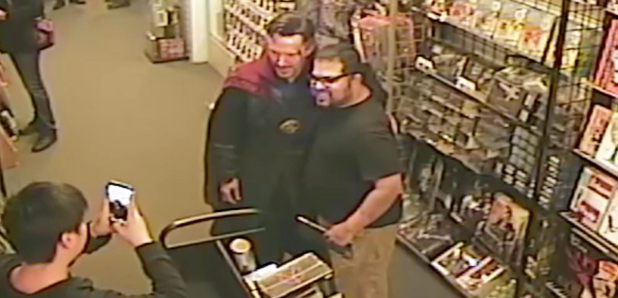 The British actor surprised staff at a New York's DHU Comic Books during a break from filming.
Benedict Cumberbatch surprised fans at a comic book store on Monday (4 April), by paying them a visit dressed as Doctor Strange.
The British actor, who was shooting on Manhattan's 32nd street for the film of the same name, gave staff at the DHU Comic Books a shock when he stopped by in full makeup and costume.
Watch the moment it all unfolded below:
Describing the impromptu incident on the DHU Comic Books blog, manager Rene Rosa said: "Benedict Cumberbatch was incredibly nice, gracious and he and I went back and forth with some banter for a little bit before he had to go right back out and shoot more scenes.
"He didn't have time to do much more than shake hands, talk and take a few pictures, but we totally understood that and were lucky just to have him in!"
According to Rosa, crew members had visited the store earlier and joked about how "funny" it would be if Benedict Cumberbatch visited in full costume.
The staff later offered the use of their bathroom to any of the crew, but were still "star-struck" and dumbfounded to see Cumberbatch walk in.
After chatting and taking pictures with the team, Cumberbatch even took a selfie with a copy of Doctor Strange comic, The Oath, for comparison.
Fantastic shot of Benedict Cumberbatch with @DrStrange The Oath comic courtesy of https://t.co/YFbihA4tet pic.twitter.com/CidyB97r8L

— Cumberbatchweb (@cumberbatchweb) April 3, 2016
Rosa concluded: "I don't usually get star-struck, but it's a different situation when one of the best actors of our time is standing before you in full costume, in your store, while filming the big-budget movie of a character you've loved since you were a small child.
"I felt like a 5 year-old."