This Bar Posted A Notice For Tinder Dates Gone Wrong...
20 April 2016, 12:30 | Updated: 25 April 2016, 13:21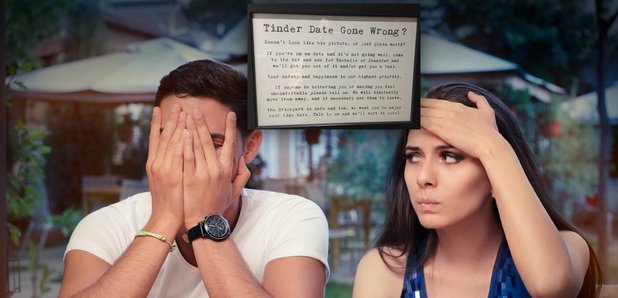 The Brickyard in St Albans has offered its customers a way out of their dodgy dates.
We all see signs in bar toilets which tell us to beware of bag thieves, but now we can add signs about bad Tinder dates to the list.
According to the Metro The Bricklayers Arms in St Albans has displayed a notice for female customers who were experiencing bad Tinder dates, and it's gotten loads of attention.
A snap was taken of a sign in the women's toilets of the establishment, which pledges to rescue women out of bad dates by ordering them a taxi or sending them a fake text.
See it below:
View post on imgur.com
The note reads, in full: "Tinder Date Gone Wrong?
"Doesn't look like his picture, or just plain weird?
"If you'e on a date and it's not going well, come to the bar and ask for Rachelle or Jennifer and we'll get you out of it and/or get you a taxi.
"Your safety and happiness is our highest priority.
"If anyone is bothering you or making you uncomfortable please tell us. We will discreetly move them away, and if necessary ask them to leave.
"The Brickyard is safe and fun. We want you to enjoy your time here. Talk to us and we'll sort it out :-)".
The notice wouldn't necessarily work for same sex couples who use the same loo, and doesn't account for female nightmare dates out there, but it's definitely a step in the right direction!
According to the Metro, the pub and restaurant is "overwhelmed" by all the attention and "have plans in place already to launch a similar safety campaign for men."
Picture: iStock Getty/Imgur