WATCH: Axl Rose Literally Gets Back On His Feet With AC/DC in Vienna
20 May 2016, 11:28 | Updated: 20 May 2016, 11:30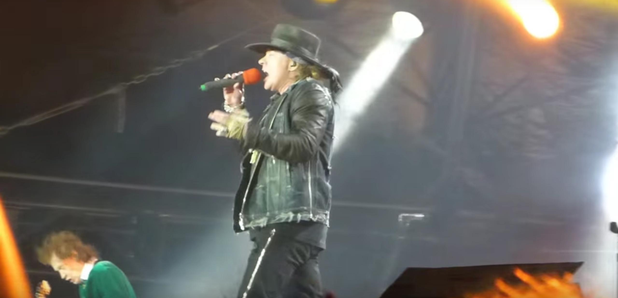 The singer fractured his fifth metatarsal back in April.
Axl Rose has gotten back on his feet for his fifth show with AC/DC in Vienna.
The Guns N' Roses frontman, who is taking on lead vocals for the band on their Rock Or Bust tour, performed out of his throne for the first time after sustaining a foot injury.
Although Rose still used his throne for part of the show, AC/DC's gig at Ernst Happel Stadion in Vienna, Austria saw him work the stage for certain tracks, including Shoot To Thrill, Dirty Deeds Done Dirt Cheap and High Voltage.
Watch him in action below:
Rose had previously been using Dave Grohl's Foo Fighters throne with his Guns N' Roses gigs, which the Everlong singer made after he broke his leg last year.
Taking to Twitter last month, he thanked Dave Grohl, saying it made "all the difference up there".
HUGE THANK YOU to Dave Grohl for the use of his rock Throne! An amazing gesture!Words rn't enough!! Makes all the difference up there!

— Axl Rose (@axlrose) April 10, 2016
According to Blabbermouth Rose also told the crowd at their Las Vegas show on Friday 8 April: "I wanna thank Dave Grohl for this; it was very nice of him. I've got nothing to do with this."
Picture: Marco290991 - Music Channel