In Austria You Can Actually Bathe In A Hot Tub Filled With Beer...
18 February 2016, 17:43 | Updated: 25 April 2016, 15:11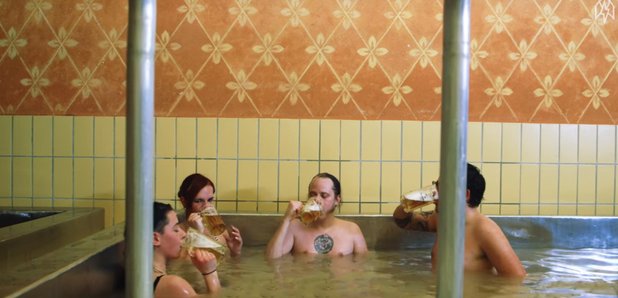 The staff at the Starkenberg brewery in Austria are making our beer dreams a reality.
Do you sometimes love beer so much you wish you could bathe in it? Well this brewery in Austria could be the answer to your prayers.
The Starkenberg Brewery in Austria have combined their love of hot tubs with their love of beer by filling massive jacuzzi's with the frothy stuff.
According to Metro, the brewery has seven, 13 feet hot tubs, which contain 42,000 pints of beer.
That's one big hangover.
And just incase you were wondering, drinking directly from the tub isn't recommended and cold beers can actually be ordered as well as poured by the punters from a tap.
Andrea Stigger - who works at the Starkenberg Brewery says the beer is believed to have "healing properties" and leaves skin feeling "incredibly soft and velvety," but the heat of the hot tub actually causes the beer to taste "bitter".
Good to know.
Watch the video below:
That's our next holiday sorted then!
Picture: YouTube/Great Big Story